Crab season has been bountiful this year and we found this dandy of a recipe to help us keep our meals interesting…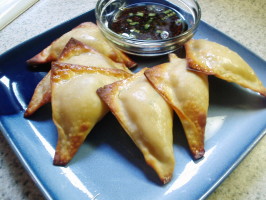 Baked Crab Rangoon
Ingredients:
– 16 ounces neufchatel cheese, softened ( low fat cream cheese)
– 1 (6 ounce) cans crabmeat, drained and flaked
– 4 -5 green onions, thinly sliced
– 1 garlic clove, minced
– 2 teaspoons Worcestershire sauce
– 1 teaspoon soy sauce
– 1 (48 count) packages wonton skins
– 1/4-1/2 cup melted butter
Directions:
1. In medium bowl, combine all ingredients except wonton skins and butter.
2. Mix until well blended.
3. Place 1 teaspoon filling in center of each wonton skin.
4. Moisten edges with water.
5. Fold in half to form triangle, pressing edges to seal.
6. Pull bottom corners down and overlap slight; moisten one corner and press to seal. (Usually there is a diagram on the wonton package. I think they look like little kerchiefs.).
7. Arrange on baking sheet that has been coated with vegetable spray.
8. Brush with melted butter.
9. Bake in 425º oven for 12-15 minutes, or until golden brown.
10. Serve hot with desired sauce.
NOTE: I like hoisin or plum sauce and sweet and sour — even jalapeno pepper jelly!
NOTE: These can also be fried, if prefer.
Courtesy of www.food.com