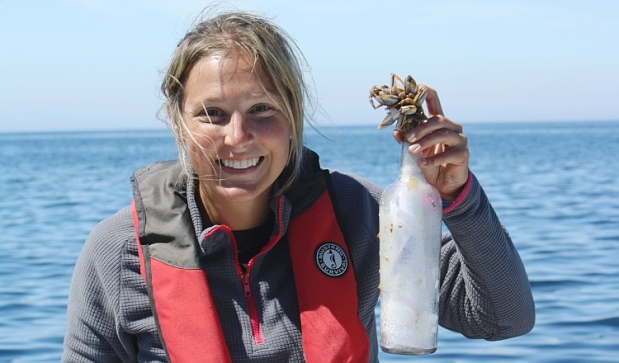 Perhaps The Police's 1979 hit Message in a Bottle will soon need to be updated for 2014 to include not just a letter, but also a USB stick with links to YouTube videos.
That's what marine researcher Carla Crossman found earlier this month just off on the central coast of B.C. when she spotted a glass bottle bobbing on the surface of the water.
Crossman, a marine mammal research biologist with the Vancouver Aquarium, was conducting a cetacean survey in Hecate Strait west of Porcher Island on July 12 when she saw the wine bottle tangled in kelp.
"Over breakfast that morning, we had actually been talking about if we'd ever found a message in a bottle," Crossman said, calling the discovery a "coincidence."
When the team got closer to the bottle, Crossman said she was filled with "excitement and disbelief" upon realizing it did actually contain a letter.
The bottle's cork was covered in gooseneck barnacles, similar to what was growing on much of the Japanese tsunami debris that washed up in B.C. and Washington state.
Inside, Crossman found a letter written in English, Mandarin, and Spanish — as well as a USB stick containing digital copies of the letter, a link to a YouTube video and contact information.
The letter was written by a man named Raymond who was living in Hong Kong, and included a quote by the late film critic Roger Ebert. The link on the USB was for a music video promoting a 2002 French film called Le Papillon.
As Crossman soon found out, Raymond was only one of about 32 individuals who had written letters and collected trinkets at the request of a Hong-Kong-based couple.
The couple had collected the bottles from each of their participating friends and, along the way on a container ship trip from Vancouver to Hawaii, dropped the 32 bottles into the ocean.
"They had the exact co-ordinates of where this bottle was dropped and it's about halfway between Vancouver and Hawaii," Crossman said of the bottle that had been tossed in the ocean on Nov. 5, 2013.
Crossman's bottle appears to be the first to have been opened so far, as she is the only one to have contacted the couple since the bottles were delivered into the ocean.
Since the bottle's discovery, Crossman has been in touch with Raymond and now receives regular updates on life from him as he nears retirement.
"It's kind of amazing this does actually happen," Crossman said. "In the digital age, it's neat that we're still connected in … a hands-on kind of way."
Courtesy of www.theprovince.com