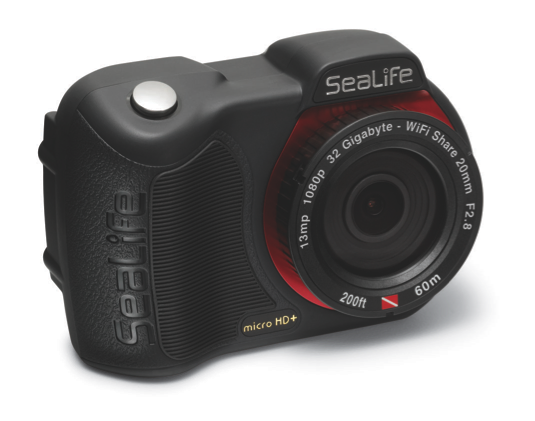 SeaLife has announced a small photo and HD video camera, The Micro HD, that looks poised to give GoPro some serious competition for underwater use. The Micro HD and Micro HD+ record 13MP photos and 1080p HD resolution video, but the ergonomic housing design is made to be handheld – an obvious advantage for still photographers. SeaLife's trademark piano key controls are very easy to see and operate underwater.
The beauty of the SeaLife Micro HD is its simplicity. It is fully sealed, which means there are no o-rings to clean, memory cards and card readers to buy or any risk of flooding. The camera is charged via a wet USB port. And while photos and videos are transfered to your computer via USB on the Micro HD, the Micro HD+ can transer images to any of your devices via WiFi. You can also control the Micro HD+ and see the real-time view of the LCD through the app.
Underwater photographers using GoPros must use filters to bring proper color and contrast into underwater scenes. The SeaLife Micro HD has 4 underwater modes specific for diving – no external filters necessary. The other cool function of the Micro HD is that you can shoot stills while recording video, so now you can have the best of both worlds.
The SeaLife Micro HD won't be replacing larger camera systems for serious underwater photographers, but it is a great option for those who want HD video and photos from small, compact and easy-to-operate camera. It is also compatible with the Sea Dragon light system.
Courtesy of www.uwphotographyguide.com