Falmouth and English Harbours are the sailing capital of the Caribbean
With its turquoise waters in varying shades of blue, Antigua is a popular island destination of the Eastern Caribbean. It's said the island has a beach for each day of the year and enough anchorages to spend a night in a different bay for two weeks straight. Located on the southern side of the island, Falmouth and English Harbour lie side by side and are two of the most popular locations for yachts. Almost touching at the closest point, these separate harbors attract thousands of cruisers, charter boats, and superyachts each season. With some of the most extensive marine facilities in the Caribbean and host to some of the best yacht races in the region, visitors to the area will find the docks and anchorages bustling with skippers and crew hailing from ports all over the world.
English Harbour, the more attractive of the two, is an idyllic anchorage lined with a white sandy beach and boutique resorts. With Shirley Heights towering above, visitors can merely hike straight up the goat trail to arrive into the grounds of the magnificently restored 18th-century military lookout and gun battery. Every Thursday and Sunday evening, the venue attracts some 500 tourists and locals who come to enjoy the famous steel band and barbeque; it's arguably the best party in Antigua. Perched upon the hill, and with its magnificent view over the two harbors, Shirley Heights is guaranteed to provide a great night out.
  Nelson's Dockyard, a UNESCO World Heritage site, is nestled between the two harbors and has been beautifully reconstructed to house numerous classy restaurants, hotels, and boutiques. Its ancient stone walls and attractive buildings were once a base for the British Royal Navy during the 18th and 19th centuries. Arguably the prettiest marina with the richest history in the Caribbean, it accommodates 54 yachts up to 200 feet in length and is a popular choice for luxury vessels and superyachts. With 24-hour security, customs, and immigration facilities and a full concierge service, guests to the Dockyard will be pleased with the facilities on offer, not to mention the full range of skilled labor and marine services the yard can provide.
Located to the east of English Harbour is Antigua Slipway. This full-service marina also sports a chandlery and fuel dock. The stern-to visitor's dock has room for 35 boats and takes yachts up to 150 feet. There is haul out capability and the yard is popular for summer storage, providing tie-down rings set into a concrete base, and stands welded together to create a ridged cradle. With numerous services in the area including sail lofts, mechanics, electricians, carpenters, riggers, canvas workers, metal fabricators, and refrigeration mechanics, English Harbour is a great location to carry out yacht maintenance and upgrades.
  Falmouth Harbour is even more ideal when it comes to boating goods and services. Surrounded by green mountains, the picturesque Pigeon Beach is located on the southeast side of the harbor and boasts calm waters, white sand and two pleasant beach bars with live music.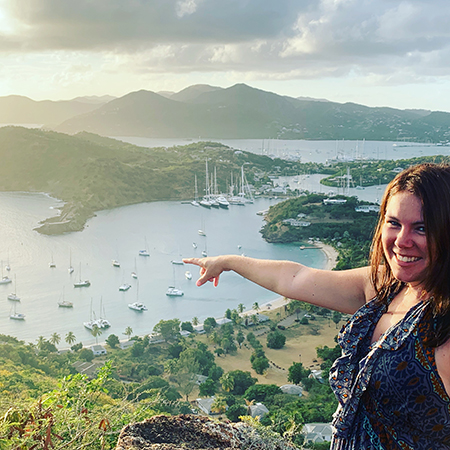 Home to three marinas, sailors are spoilt for choice. However, ensure you book ahead, as all three marinas are usually extremely busy during the high season, which runs from December to early May. The harbor is large and provides plenty of room for those who prefer to anchor out or pay for a mooring ball. Falmouth is protected from the open sea on almost all sides, living on anchor is very comfortable, and the holding is good.
Antigua Yacht Club Marina and Resort has room for 60 yachts and, during the winter months, stern-to docks are lined with an incredible array of superyachts and luxury cruisers. Catering to yachts up to 24 feet of draft, the marina also provides 24-hour security, a café, supermarket, shops, and restaurants.
One of the most attractive things about Falmouth is the services cruisers can locate within walking distance of the various dinghy docks. With two rigging shops, a Budget Marine chandlery, marine electronic repair stores, woodworking yards, outboard repair and general mechanics garages, watermaker experts and life raft servicing, even the most complicated boat repair or upgrade can usually be accommodated. A fuel dock supplying low sulphur diesel is also right by the dinghy dock, and at the time of publishing this article, was priced at 13 EC ($4.80 US) per imperial gallon.
Located nearby, the Falmouth Harbour Marina is modern and attractive and designed for large yachts and even small cruise ships. Across the bay to the north, the Catamaran Hotel and Marina provide secure birthing for up to 60 yachts, both stern-to and alongside, in peaceful surroundings. Providing a guardian service, the marina is an excellent place to leave your vessel if you wish to fly home. Close by, you will find Baileys Boatyard. Offering haul out and storage for 50 boats up to 80 ton with a maximum 12 feet of draft, the yard can also provide hurricane season storage, with six concrete keel holes. Sammy's Boatyard in the northeastern corner of Falmouth Harbour is a no-frills haul out facility for 100 yachts.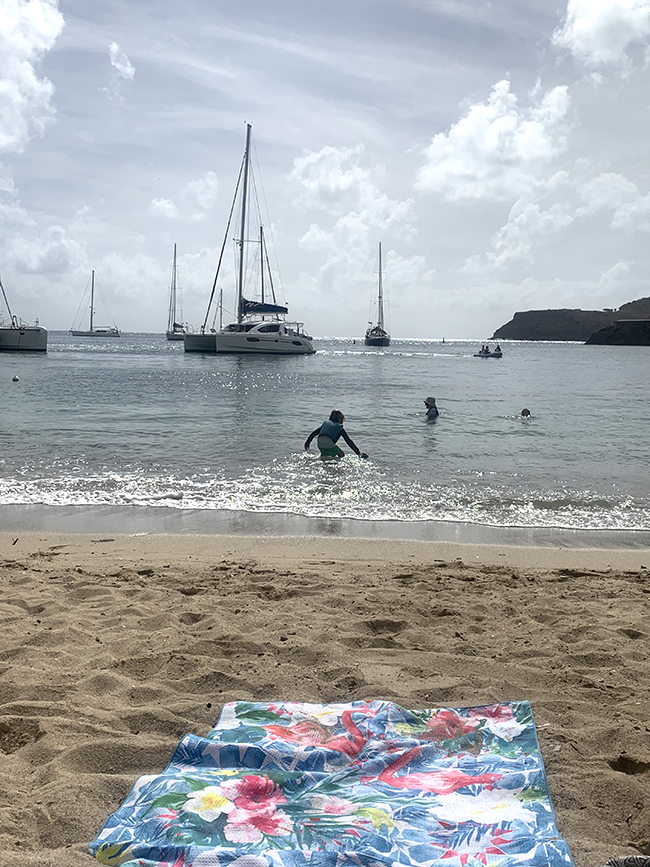 Well known as the yachting capital of the Caribbean, English and Falmouth Harbours will charm you with their idyllic beaches, clear water and tranquil atmosphere. The harbors have no shortage of restaurants and bars to enjoy, and the sound of calypso can be heard on the warm Caribbean breeze. The local cuisines will be served with a Caribbean flare, and the people are friendly and welcoming. Serviced by buses and taxis, the harbors are a natural jumping off point to visit the rest of the island and, with a vast array of services and storage facilities, not to mention perfect anchoring grounds, cruisers of all budgets will feel right at home.
Erin and Dave Carey are cruising the Caribbean with their three young sons. You can follow their adventures on their website https://erinndave.wixsite.com/sailingtoroam