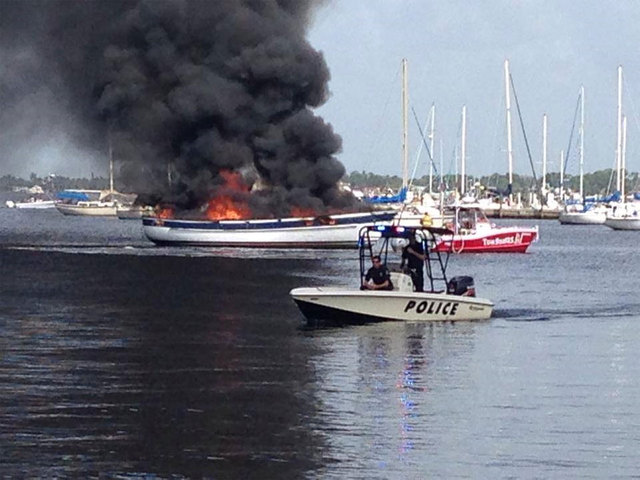 Our deepest condolences go out the friends and family of Charlie Birely… 
An 11-year-old boy died Sunday when a 45-foot sailboat caught fire in the waters off Stuart, spewing thick black smoke and sending 20-foot flames into the air, city police confirmed Monday.
Charlie Birely was not able to leave the boat, moored off Shepard Park in the St. Lucie River near the Roosevelt Bridge, once the flames and smoke filled the air shortly after 10 a.m. Sunday, authorities said.
His parents, Brian Birely, 59, and Karen Laake, 53, managed to get off the burning boat and into a dinghy and tried to take Charlie with them. They were not able to do so, police said.
Officers then "attempted to rescue anyone that may have been on board," Officer Brian Bossio, city police spokesman, said in a prepared statement Monday. "Due to the extreme heat coming from the fire, officers were unable to go aboard and attempt a rescue."
Details of the parents' struggle to get Charlie off the boat were not available, but police said the boy had autism. It appeared he and his parents lived on the boat at Sunset Bay Marina near the Roosevelt Bridge, authorities said.
The boy's parents were rushed to Martin Memorial Medical Center in Stuart for treatment of smoke inhalation and then moved to Miami for treatment of undisclosed injuries. No update on their condition was available Monday.
Dozens of calls flooded Stuart police phone lines Sunday morning when people crowding into the park, a popular boating destination off Southwest Ocean Boulevard, for Labor Day weekend reported a boat going up in flames.
Police agencies spent Sunday and Monday searching the charred remains of the boat for clues about the fire, whose origins remained sketchy Monday. Personnel from the State Medical Examiner's Office worked the scene late Sunday in advance of Monday's announcement that Charlie had died.
The boat stayed in the water Sunday, forcing Shepard Park to close. It was removed from the water overnight and taken to a police evidence area for further processing.
Courtesy of www.palmbeachpost.com