Taking the road less traveled by sailboat  (published May 2018)
The hardest part about having an adventurous spirit is the inevitable aloneness that accompanies it. I'm not just talking about the physical aloneness felt by a distance through-hiker or a solo sailor. I'm also talking about the mental aloneness ingrained in all of us who fall off the beaten path in search of a new horizon. We isolate ourselves with concerns of preparation, while our friends and family members attempt to engage us deeper into their lives. Even sitting around the Christmas tree, exchanging the year's gifts with loved ones, some of us are already imagining the next adventure to come. Our homes become mere meeting places where friends and family stop by to catch a glimpse before we set out again leaving them behind to indulge in normal earthly activities without us. Sometimes mothers cry, and sometimes friends seem to resent the fact that we are leaving, all while telling us things like "have fun out there" or, the majority favorite, "be safe". In my recent years of travel no one has ever said "don't forget your foul weather gear". As I've progressed as a sailor the goodbyes get harder, and as strange as it may sound, it gets more and more difficult to come back to the "real world". When I return from a long trip on my sailboat I'm always excited to see my family and friends but within a few days my mind begins to prepare for a new goal, and I can't wait to get back out on the water, pull my sails, and head for the horizon. To some this sounds playful or even selfish but to those of us who have this incredible drive to defy the norm, to face the uncertain, to test ourselves, and to create new wakes, instead of following those made by the masses, we know that there is a force within us telling us "go" and that the power of that force is undeniable.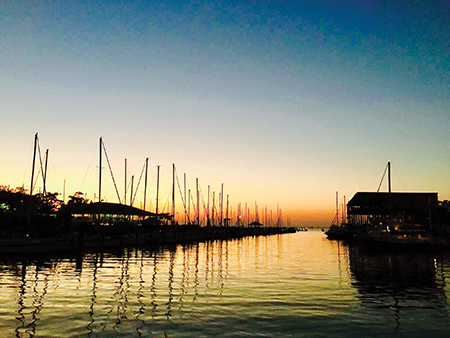 When I bought my first sailboat, a small Venture 22, I was quickly met by others with skepticism and fear. Even pulling the old boat home, shortly after purchasing it, I was asked by a total stranger at a gas station, "does that thang float?" Many more questions would follow from that day forward along with advice from those who knew a "guy who owned a sailboat once". The dangers of a sailboat would pile up to terrifying heights as other predictions of all the "work" involved were stacked like bricks in a wall, preventing me from accomplishing my goal. Once I began to sail, those walls were easily diminished and when I didn't die after the first full weekend of sailing the concerns of others for my safety turned to curiosity. Buying a boat instantly separates you from the main pack, and buying a sailboat puts you into an even smaller group. But the separation doesn't end there. The difference is something internal, and it's something other people seem to fear or at least not understand. It's the idea that you might one day sail away on your boat, and never return, or that somehow you're opting out of a lifestyle they have so much invested in.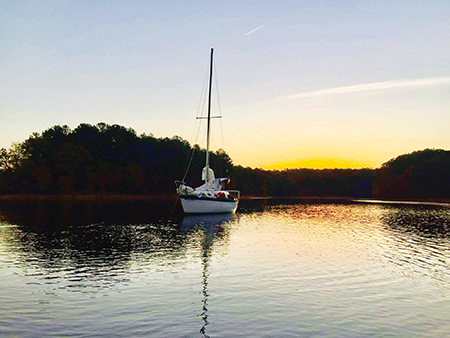 Early one Friday morning in the month of October I was preparing for my longest journey to date. My living room was a physical inventory checklist. Backpacks and boxes littered the floor. A backup outboard motor lay in the hallway just behind the front door. Jerry cans and coolers sat on the porch welcoming any passerby. I was steadily rolling over every box and bag making sure everything was accounted for. I had already said my goodbyes to family and friends the day before, and that night we had burned some meat on the grill and had a few cold beers. The mood that evening was of someone going on a vacation, but in my mind it was anything but a holiday. The trip would take me, in a 1981 Hunter 25, some 640 miles from Tennessee to southern Alabama through a narrow system of waterways, and would not provide the most relaxing experience. Preparing for the trip was like a marathon. Gathering the necessary groceries and supplies for the expected month long "getaway" was an activity I did not associate with the word vacation. Most folks headed to Disney World don't have to think about 30 days worth of meals ahead of time or take backup motors with them on the cartoon themed roller coaster rides careening through the Magic Kingdom. After packing all the bags and boxes into every available space in my car, with outboard motor riding shotgun, I locked up my house and took a final look. The fall morning air was cool and tranquil. A feeling swept over me as I sat behind the steering wheel and prepared to disembark. It was the feeling of being alone. The next five weeks this feeling would give way to the magnificent hues of every sunrise and sunset. Egrets and coots would prove to be entertaining guests but poor conversationists. On a few occasions, when I had cell phone service, I would make a call to a friend or family member to let them know my location and general status. I spent a lot of time just enjoying the beauty of the natural world. I cooked simple meals, took naps, read books, and even worked on trying to write my own. My body and soul synchronized with the gentle rhythm of the world, and for the first time I felt truly satisfied. As my journey came to an end a new feeling emerged. It was a feeling of resurrection. I was coming back to life, back to a world of time and hustle. Back to what I knew, and away from what I wanted to understand. One part of me was excited and anxious to see familiar faces. Another part of me desperately wanted to continue to remain in the timeless, rolling spaces that reside at the end of the ever stretching tether.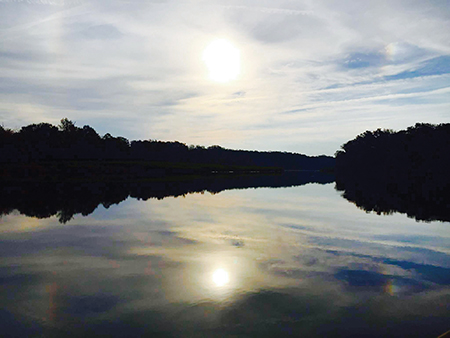 After a nine hour car ride I returned to my home to find it still and empty. Once again my floors were filled with boxes and bags of various sizes containing the leftover supplies, and dirty clothes from my long "vacation". It felt good to be home, and I marveled at the standard appliances one would find in most domestic settings. I began stuffing clothes and blankets into the washing machine, popping bowels of chili in the microwave, and nearly fell over from that feeling of the boat still in my legs when I took a hot shower. That night I found my bed uncomfortable, and ended up sleeping on the floor. The following morning friends were stopping by early and eager to hear stories from my adventure. Again questions and curiosities ruled the dialogue for the next few days, and as I settled back into the pace of life on land, I once again found myself alone, cut off by thoughts of a simpler life on water, unable to immerse myself back into the rhythms of daily life.
Life on a boat can be rough and dirty. The conveniences of land are few, and most of the time found in a metal can, but are outweighed by the simplicity and beauty of a life on water. Gaining a closer look at the laws of nature and the organic consequences that come along with them, change the way we view the world. We learn from our mistakes or we sink. We make life easier one adjustment at a time, and find quiet accomplishment in solving our own problems. When we face our fears, we disillusion ourselves by seeing the reality that mile markers can, in fact, be passed and oceans crossed. We become one with the world, and when we do that we realize we are never alone, and we understand that everyone is alone. This contradiction is part of the human condition. It's why we return and it's why we leave the ones we love behind. No particular words in any particular order will ever be able to fully explain the calling that adventurers feel in their hearts. But those who take a chance, those who believe, who put tillers and helms and paddles in their hands, and hulls under their feet, in order to seek a life in motion, are usually met by that same indescribable but universal feeling which provides a wanted reply to that potent longing in our soul. It's the reason we sail. And once touched by it, it becomes the reason we live.