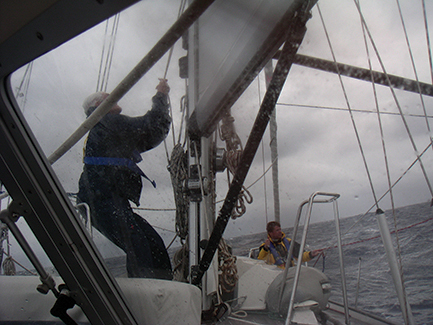 With the amount of gear and opinions available on what you should or should not have, fitting out a sailboat for blue water has never been more daunting. Couple that with the highly personal nature of the seamanship and safety decisions that need to be made, and getting a boat ready for offshore work can seem like a major obstacle to attaining the cruising dream. But it doesn't have to be.
When cruising sailors talk about fitting out their boats for adventures on the high seas, the focus usually seems to be on big ticket items or creature comforts: a new dinghy and outboard, rigging, refrigeration, self-steering, wind and solar, etc. But there are a handful of safety considerations to take into account when preparing your boat and crew for the rigors of ocean sailing.
The International Sailing Federation (ISAF) and U.S. Sailing have been leaders in the safety at sea movement for many years, and as such, have developed a set of safety recommendations for what offshore quality yachts and their crews should have aboard when heading out over the horizon. Many of their recommendations are required for entry in offshore racing events, but cruising sailors can easily look at them as a helpful set of parameters to follow when outfitting for their own coastal or offshore passages. In the end, how you choose to outfit your yacht is entirely up to you. The following is meant as a helpful starting point when turning a weather eye towards fitting out for safety.
WHO'S IN CHARGE?
ISAF begins their Offshore Special Regulations with a call to action for the person in charge of the vessel: "The safety of a yacht and her crew is the sole and inescapable responsibility of the person in charge who must do his best to ensure that the yacht is fully found, thoroughly seaworthy and manned by an experienced crew who have undergone appropriate training and are physically fit to face bad weather. He must be satisfied as to the soundness of hull, spars, rigging, sails and all gear. He must ensure that all safety equipment is properly maintained and stowed and that the crew knows where it is kept and how it is to be used. He shall also nominate a person to take over the responsibilities of the Person in Charge in the event of his incapacitation."
This statement speaks volumes about how a sailboat and crew should be prepared before heading offshore, and based on the amount of people, including couples, who are taking sailing and safety courses and seminars these days, they are on to something.
GEAR FOR THE BOAT
Choosing an offshore quality boat is the start of safely crossing large bodies of water and there are plenty of resources and opinions floating around to help with that decision. Deciding on a boat is highly personal, though, so we'll assume you've done the best in choosing the boat that is right for your cruising plans.
Once a sound boat has been decided upon it is time to turn your attention towards gear that will make that boat safe for the crew.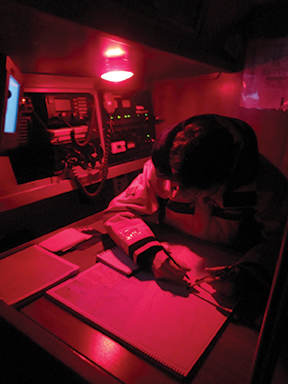 Starting at the navigation station, it is recommended to carry a spare magnetic compass that is not connected to any power supply; a set of paper charts for the areas you plan to sail and plotting tools; a sextant, tables and timepiece; a GPS unit; a marine VHF radio with mast mounted antenna, a separate waterproof handheld and a radio receiver capable of receiving weather bulletins; a SSB radio; an AIS transponder; an EPIRB; and a satellite phone.
Moving to dedicated safety equipment, having a quality life raft that is up to date on certification and designated for the amount of crew you have aboard is critical. With that, you should also have a properly supplied grab bag (see sidebar) to take with you into the life raft.
For crew safety while sailing offshore it is imperative that you have properly installed and rigged padeyes and jackstays/jacklines.
The purpose of clipping points other than the jacklines is to allow for most, or all, crewmembers to be clipped in at the same time. The recommendation has also been made for crewmembers to be able to clip in before they come on deck and unclip when they get down below. Also, Dyneema or Spectra type line has been approved for use as jacklines and lifelines if they are spliced using the manufacturers recommended procedures.
In the event of a crew overboard situation, it is recommended that your boat be equipped with a throwable lifebuoy that has a 50 to 75 foot line attached to it and the boat. It is also recommended to have a GPS at the helm station with a man overboard button that will plot their position when pushed, and a waterproof high-powered searchlight to look for the person at night.
Other recommended safety items include; a storm jib with high visibility cloth or tape, a radar reflector, foghorn, first aid kit and manual, fire extinguishers, fire blanket near the stove, soft wood plugs, emergency water supply, flares, drogue or sea anchor, waterproof flashlights, and a full compliment of tools and spare parts.
That amounts to a lot of gear and a lot of dollars from the bank account, but there are plenty of stories to suggest that all these things could save your life.
GEAR FOR THE CREW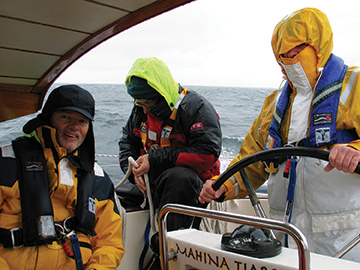 The next big category to think about when outfitting for ocean sailing is that of personal safety equipment. Each crewmember should have his or her own PFD, harness and tether/safety line that is appropriate for their size and weight. Your PFD should have a safety light and whistle attached to it and a properly registered Personal Locator Beacon (PLB) is highly recommended as well. Safety harnesses should also have a crotch or thigh strap that is strong enough to lift the wearer onboard. It is important to note here that U.S. Sailing does not recommend using harnesses and tethers that were manufactured before 2001, and that inflatable PFDs should be inspected yearly.
In addition to a PFD, harness and tether, it is recommended that each crewmember have a knife, waterproof flashlight, and appropriate foul weather gear with marine-grade reflective material on it.
NOT JUST BUYING GEAR
Responsibility and safety aren't all about buying gear. Knowledge and experience play a major role in safety at sea and there are numerous safety at sea seminars and classes available. U.S Sailing's Safety at Sea Seminar offers a mix of lecture and hands on learning that are helpful for anyone who is planning to go offshore. Lecture topics include emergency communications, personal safety gear, man overboard, search and rescue procedures, large vessel traffic, heavy weather, breaking seas and more.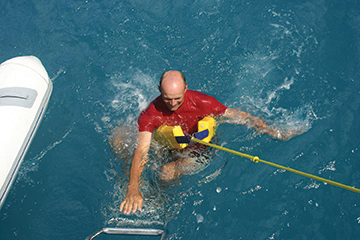 U.S. Sailing's practical, hands-on training is an optional second day that reviews theory and then delves into in-the-water exercises. These in water exercises are generally done in pools with and without PFDs and cover inflating and boarding a liferaft as well as how to right an overturned raft. Additional drills include using throw ropes, Lifeslings, signal mirrors and other signaling devices. Hypothermia is discussed and you will learn how to use fire extinguishers, send emergency communications and fire various types of flares. The seminars are conducted by USCG certified instructors and follow a U.S.-modified ISAF curriculum. For more information visit the website offshore.ussailing.org
Aside from U.S. Sailing's Safety at Sea seminars, many sailing schools, offshore rallies and races have safety classes, symposiums and seminars designed to help those who want to sail offshore gain a strong foundation of practical safety knowledge before shoving off.
It has been said many times over that safety at sea is no accident. The truth in that speaks to absolute preparedness and the need for essential safety equipment when fitting out your boat and crew before heading offshore. Having a vessel and crew that are well founded, equipped and ready to take on the rigors of ocean sailing will not only give you peace of mind before cutting the dock lines, but could save lives if the unexpected happens.
Resources:
US Sailing's : offshore http://www.ussailing.org/education/safety-at-sea/
ISAF: www.sailing.org
Marine Trades Association of Maryland: mtam.org/safety-at-sea.html
Marion to Bermuda Cruising Yacht Race: www.marionbermuda.com/sas/sasreg.php
RECOMMENDED GEAR FOR YOUR GRAB BAG
Spare sea anchor (larger than the one packed in the raft)
Second sea anchor for the life raft (if not already packed in life raft)
Waterproof handheld VHF Radio with spare batteries
A signaling whistle
Fishing tackle
Extra sponges
Plastic bags
Repair kits capable of working when the raft is wet
Two red parachute and Two red hand flares (SOLAS compliant) and cyalume-type chemical sticks
Handheld GPS
Search and Rescue Transponder (SART)
Water in re-sealable containers or a hand-operated desalinator plus containers for water
A watertight flashlight with spare batteries and bulb
Dry suits, thermal protective aids, or survival bags
Two safety tin openers
First-aid kit including at least 2 tubes of sunscreen. All dressing should be capable of being effectively used in wet conditions. The kit should be clearly marked and re-sealable.
High energy food
Nylon string
EPIRB/PLB
Knife
Seasickness tablets (min 6 pp recommended)