Previously published in BWS by Zuzana Prochazka.
Driving a 66-foot, all-carbon performance catamaran isn't something I do every day. Flying a hull on one isn't something I do at all. Except that I did—in China—with designer Gino Morrelli standing next to me shouting over the wind, "You're flying!"
Adrenaline whooshed through my ears and although thrilled, I was scared senseless. I might as well have been flying a G6. On the port side, this 20-ton platform was riding on her T-foil only. One herky-jerky move with the wheel and she would teach us all a lesson. Even with racing rock stars, this must be a well-controlled exercise and it's not recommended for short-handed cruising.
We had spent two days trying to get hull number two of the Hudson & Hakes (HH) line of performance catamarans to fly. At first, Night Fury seemed hesitant. Each time the windward shroud loaded up to 10,000 kilos (the magic point at which she would lift a hull) the hydraulic mainsheet ram, a built-in safety feature, dumped the main, essentially de-powering the boat and preventing us from flying.
With that feature disabled a few days later, we thundered down the East Xiamen Waterway at 85 degrees to the wind under the staysail and one reef in the giant black main. Finally, at 21 knots of boat speed in about 25 knots of true wind, the hull lifted, the boat became easier to steer, and just for a few seconds, everything moved in slow motion.
It takes some skill to sail one of these beasts. Designed by Morrelli and Melvin and built by Hudson Yacht Group, these boats won't be showing up at summer beer can races or plying the bareboat charter trade. Just getting to know the sophisticated control systems takes a while. It's expected that most owners will have a captain or a professional crew but with training and a multitude of sensors and safety systems, a couple could soon manage one of these on an extended cruise. Best to leave flying out of the equation though.
THE TRIFECTA
Three powerhouse forces came together to create the boat that I was driving and the HH Catamarans company as a whole. The brand gets a credibility boost from renowned American designer Gino Morrelli, the build expertise of Kiwi Paul Hakes (one of the Hs in the name and also the company's president) and the money for the quality build from Hudson Wang (a Taiwanese businessman and the other H in the name). Wang has built an empire producing high volume private label merchandise and has separate factories that make injection-molded sports equipment, defibrillators, Yeti coolers and about a million baseball bats a year.
The boatbuilding facility on Xiamen Island has seven buildings and takes up nearly 345,000 square feet. Several hundred Chinese, Taiwanese, Kiwi and American employees mill about a production line that is streamlined with 5S organizational methodology. Over the next year, HH expects to build 10 boats in some combination of lengths, 55 or 66 feet.
TENNIS ANYONE?
At 66 by 22 feet, the HH66 is nearly the size of a tennis court on deck. The carbon fiber sandwich, cored with foam, is infused with post-cured epoxy resin. Depending on equipment choices, the massive platform weighs in at only 36,000 pounds. Hydraulics and electrics help with much of the giant gear, including the mainsheet ram and the pre-preg, C-shaped daggerboards that were optimized using America's Cup data. The T-shaped foiling rudders (optional) as well as the Southern Spars mast, boom and longeron at the bow are also carbon.
The decks are wide, clear and interrupted only by the huge daggerboards that tower overhead when raised. The starboard bow hides an enormous locker, which houses the windlass and air conditioning units along with quite a bit of stowage space. The boat's profile includes a fairly low coach roof with long dark windows reaching about halfway back. There is a choice of helm station configurations: twin raised helms aft, or one inside station on the centerline forward. Most lines are led to, and managed from, the working pit at the base of the mast with only the headsail sheets led aft.
    Night Fury was configured with twin outside helms but also an L-shaped inside navigation station in the forward starboard corner. Here, twin B&G black glass touchscreen displays adorn the forward bulkhead with instruments set along the side. With engine throttles and autopilot control mounted here, this effectively makes an additional interior steering station, which includes the large and clearly-labeled "DUMP" button that blows the mainsheet if things heat up outside when you're lounging inside.
Here's a twist, though. Instead of two exterior helms, the forthcoming hull number five will have the single inside steering station but will add a large tiller and a carbon bucket seat at each transom. With jib and mainsheet controls built into the tiller handles and a good view of the sail plan from either side, these may be the best seats in the house for anyone wishing to feel the wind and experience the excitement of direct steering.
Regardless of the weight of the equipment or the loads on the boat, sailing the HH66 really is a pushbutton affair and everything is at your fingertips. Raising this size mainsail would be a serious undertaking if not for the electric winches that allow a short-handed crew to manage.
The sail plan is fairly versatile with a 125-percent Solent style jib (848 square feet), a square-top mainsail (1,485 square feet), and the option of a self-tacking jib (323 square feet) controlled by a captive (below deck) winch. The self-tacker would be my choice for short-handed cruising. Load cells monitor the various pressures on the rig and tell the crew, via the B&G MFDs, how to best trim and when to reef.
The aft cockpit is available in a few configurations. With the twin outside helms the layout includes a center table aft that will seat eight and two lounges on either side of the door. The engine rooms are under the transom steps and house two 80-hp Yanmar diesels with sail drives. Top speed under power is about 13 knots.
NOT LIKE CAMPING
These boats are luxury suites on performance platforms and the interior fit-out is a step above other cats in this class including the previous Gunboats. The layouts are influenced primarily by the choice of helm station location. Once that is determined, the layout of the galley, settees and sleeping accommodations are designed around owners' needs so walkways and appliances shift around.
The saloon is spacious and the cabins and heads in the hulls (a choice of three or four each) are well executed with nice touches like gloss finishes and exceptional joinery. Brand name accessories are imported including electronics, galley appliances, pumps, heads and other systems.
For now, each HH boat has its own flair and unique details right down to custom exterior paint mixes, various interior colors and finishes, and even carbon fiber toilets. The emphasis is on lifestyle with function, perhaps the best meeting point of design and the practicalities of living on the ocean.
SEMI-CUSTOM
With the first three hulls launched and the next four in various stages of production, the HH66 is a "semi-production" build although for now at least, HH is pretty much making sure all owner requests are entertained, if not fulfilled. As production standardizes and sales ramp up, that approach is bound to change.
There has also been a learning curve and each successive boat either has new equipment or options to improve performance and comfort. For example, hull number three, named Nala, benefited from a revamp of the Jeffa torque tube steering system with the substitution of porcelain bearings. Instead of the stiffer steering as on Night Fury, the subsequent boat's wheel was smoother and lighter. This system was also retrofitted onto hull number one, named R-Six. The interiors continue to evolve, too, with touchscreen CZone digital switching systems, creative layouts and new finishes.
Currently, HH's 66-footer has little competition because it's in a rare class of vessel. With Gunboat under new ownership and McConaghy still selling at boat shows with only models, HH Catamarans is a commanding presence in this niche, ready to court anyone who cannot fathom having anything ordinary.
WANT ONE?
The day before we arrived in Xiamen, Nala flew a hull at 16 knots of boat speed in just 20 knots of true wind. Of course, Nala was a few thousand pounds lighter than Night Fury, and her full complement of cruising gear, including two Fischer Panda gensets. With a mast 10 feet taller and a longeron five feet longer, Nala was also tricked out for the Caribbean cruising circuit that she'll be doing this spring. With her custom blended lion-beige Awlgrip paint she should be an awesome sight to behold when at full speed in azure seas.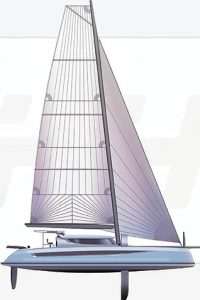 Whether amped up to race or dialed down to cruise, these rare animals turn heads, especially if finished like the first two hulls, in super sexy clear-coated carbon where the weave shows through the glossy resin. Night Fury's owner even added two giant green and yellow vinyl eyes on the bows so she would look intimidating. A 66-foot cat with giant eyes bearing down on you at 20-plus knots while riding on one hull would surely intimidate anyone.
At press time, HH was working on the seventh hull of the 66, the first iteration of the 55 had just launched and the mind-blowing 77 was on the drawing board. The line continues to evolve and the market is taking notice.
The lead-time for a new HH66 is 10-to-14 months and it'll set you back about $3.7 million. Of course, that's a lot cheaper than a G6 so you can still go flying and for a whole lot less at that.
Zuzana Prochazka is a freelance writer working in the marine field. She has been a judge in "Best In Show" competitions, is a regular speaker at boat shows and is a member of Boating Writers International. She owns a cruising boat that she keeps in California near her home.
Specifications
LOA                                                        65' 11"
Beam                                                     28' 6"
Draft (brds up)                                    5' 0"
Draft (brds down)                               13'1"
Air Draft                                                90' 10"
Displacement                                      36,740 lbs.
Fuel Capacity                                      200 gal.
Water Capacity                                   160 gal.
Engines                                                 2 x Yanmar 80-hp
Price                                                      $3.7 million (est)
www.hhcatamarans.com