Here's a great chart reading tip from or friend Capt. John 0f skippertips.com…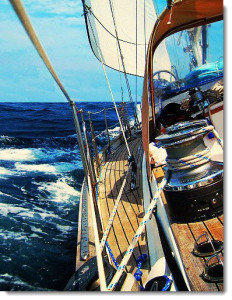 Imagine that you are about to make landfall on the coast of Alaska. Your intentions are to anchor for the night in a small harbor on the south side of an island. You search your chart list and cannot find a specific chart for safe entrance into the harbor. Here's a chart "super tool" that might provide you with the perfect sailing solution.
You might already know that navigation will always be safer with a larger scale chart. Large scales show greater detail for entry into narrow channels, shoal avoidance and anchorage selection.
But, in some areas of the world, the production of a separate large scale chart for one area can be too costly for chart makers and survey teams. Instead, the cartographer will embed an inset onto one corner of the chart that "blows up" or "zooms in" on the specific harbor. How do you know if an area of interest contains an inset.
Look for the words "use inset" (or similar words) somewhere within the harbor entrance or harbor. If the chart contains more than one inset, they will have a name such as "A", "B", "C" or similar (i.e. "use inset A"; use inset B"). You may see these designations on popular strip charts used to navigate narrow waterways like the Intracoastal Waterway that runs along the East and Gulf coasts of the United States. Watch the sailing skills video below to see this in action!
Captain John's Video-Tip-of-the-Week