The boat show season is on us and the Newport Show starts off the fun.  Here are 14 new boats to look for.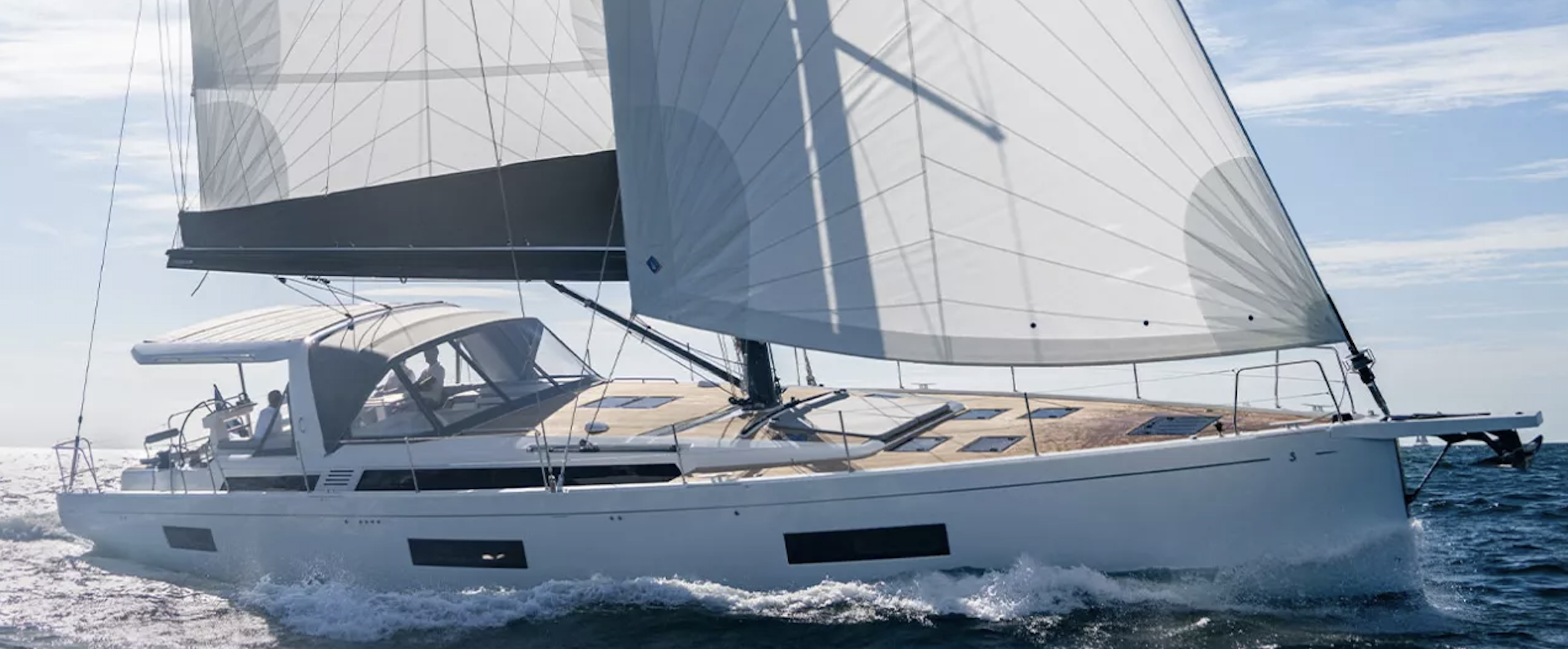 Beneteau Oceanis Yacht 60
Beneteau's new flagship is a stunning design from Roberto Biscontini and Lorenzo Argento that has a stylish, streamlined silhouette, a low cabin top and a semi-hard top Bimini over the cockpit with a roll-away sunroof. With 17'6" of beam, the hull is massive so the interior –with either three or four cabins—is incredibly spacious. The new 60-footer is a true blue water cruiser. Read more.
https://www.beneteau.com/en-us/oceanis-yacht/oceanis-yacht-60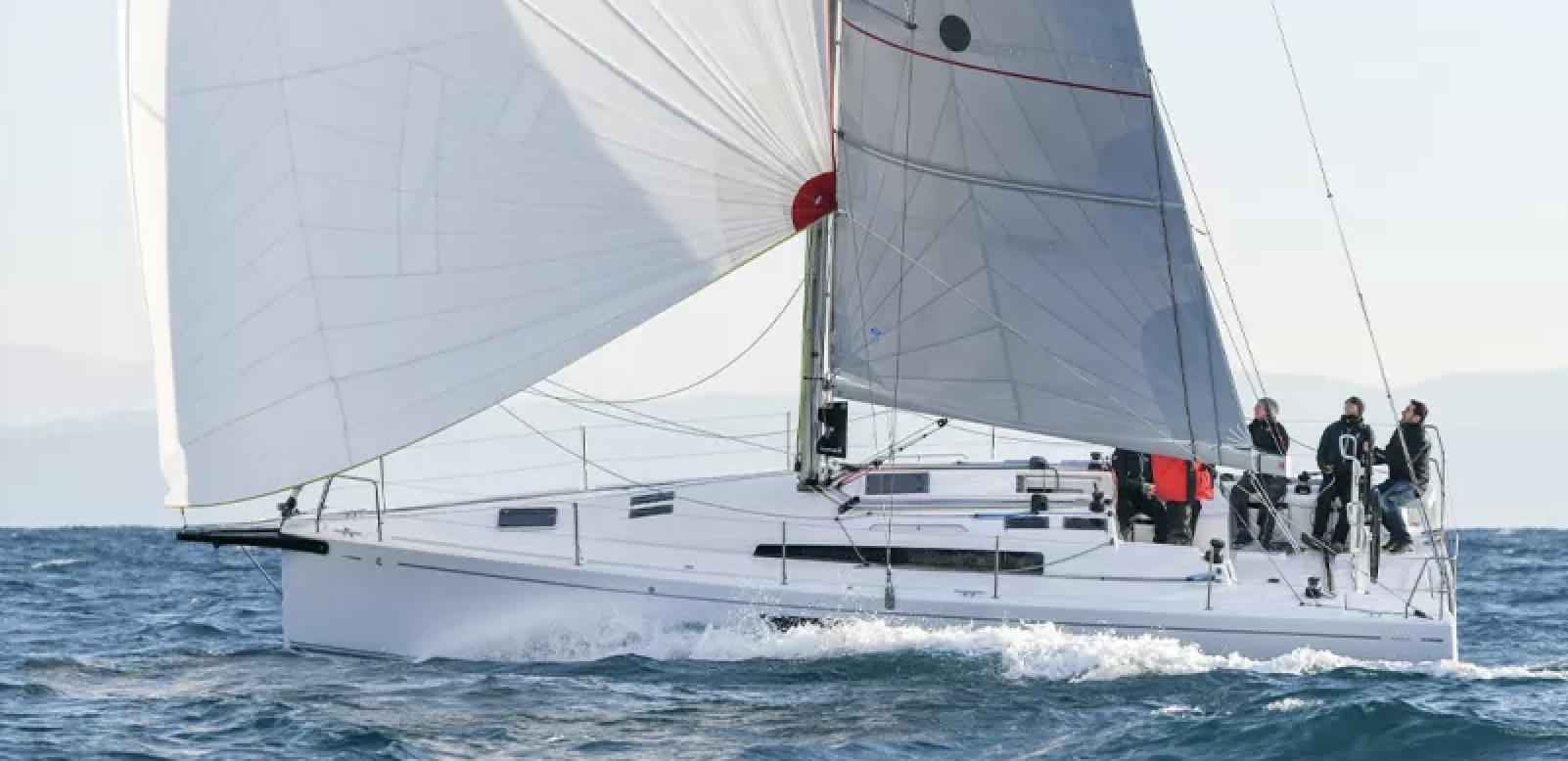 Beneteau First 36
For 40 years, the Beneteau First series has hit the sweet spot between all out performance and cruising comfort. The new First 36, designed in collaboration with Kritian Hajnsek, the chief designer at Beneteau subsidiary Seascape Yachts, has a hull that will plane in the right conditions. With a T-bulb keel and a powerful rig, the boat will claw to windward and show her stern to the competition. But, below you will find three comfortable cabins and a spacious saloon. The 36 is a fast, fun racer-cruiser for the whole family. Read more.
https://www.beneteau.com/en-us/first/first-36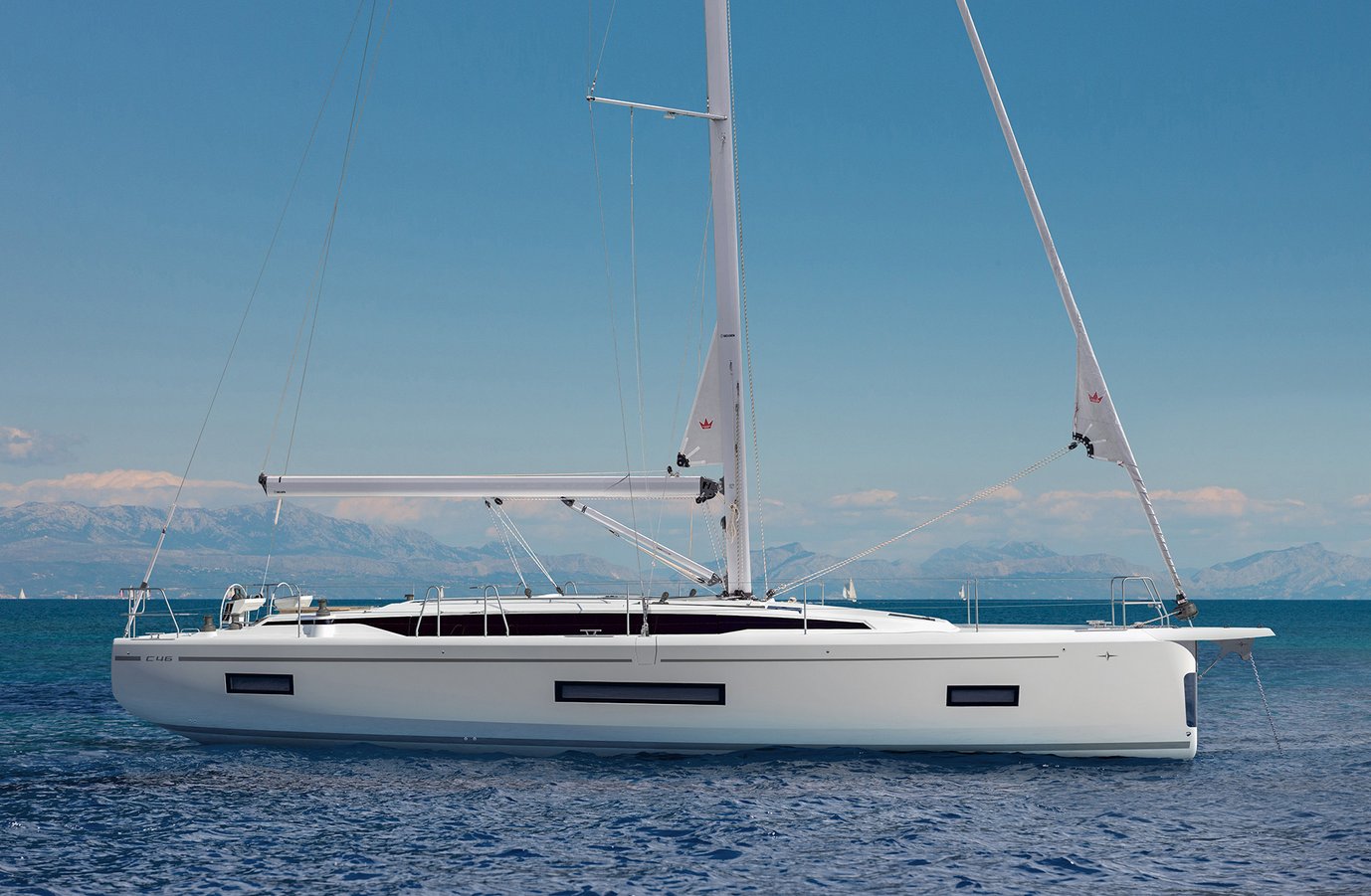 Bavaria C46
The all-new C 46 from the German builder is a pure cruising design with all the amenities you could need. The hull has a large beam and tons of interior volume, making the cabins –three, four or five cabin versions– and saloon extra spacious. The cockpit is huge and has a built-in barbeque and a wide folding swim platform. The new design has the Bavaria V-bow and hard chines for enhanced sailing performance. Bavaria has created a boat that is truly a comfortable second home with great water views. Read more.
https://www.bavariayachts.com/sailing-yachts/c46/highlights/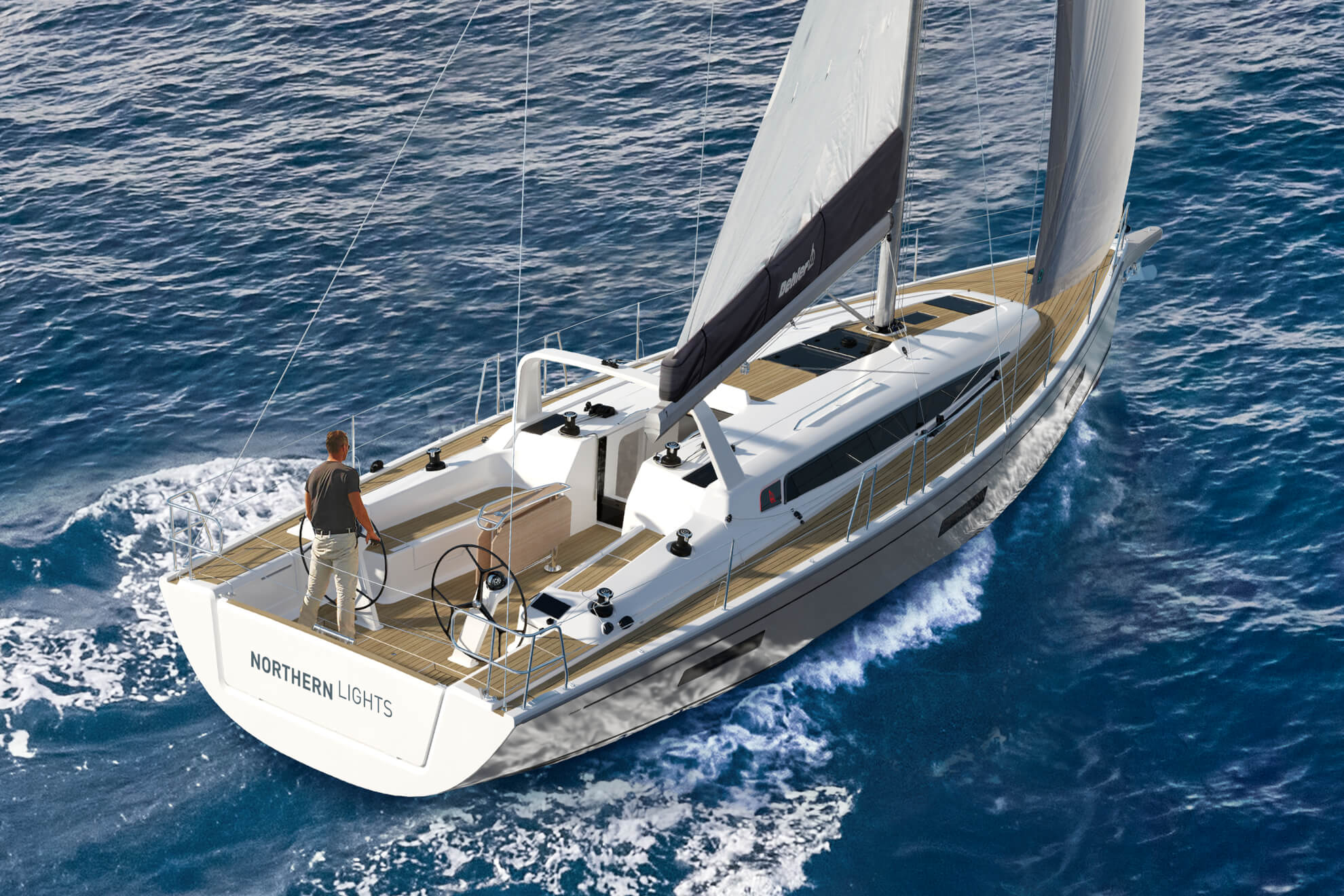 Dehler 46 SQ
Famous in Europe for performance racer-cruisers, this year Dehler, which is a subsidiary of Hanse, will introduce flagship to the line. The 46 SQ was designed to be a performance cruiser that nay never see a race course. The hull has a fairly narrow beam for enhanced upwind sailing and a minimum of wetted surface. The rig is powerful but manageable by a cruising couple. The interior provides three sleeping cabins, two heads and a roomy saloon that is full of natural light. This is cruiser for couples who love to sail. Read more.
https://www.hanseyachtsag.com/dehler/us/boats/dehler-46-sq/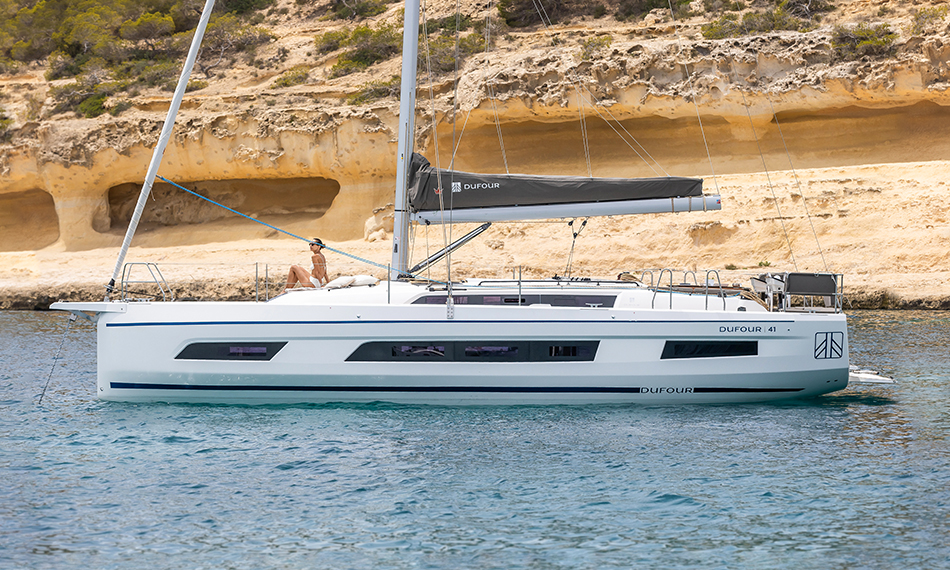 Dufour 41
The new 41 follows in the wake of the 37 that was launched last year and shows a similar hull form. These boats are the future of Dufour, a venerable French brand. Emphasizing outdoor living, the 41's cockpit is huge and with the stern folded down you have an extra patio with a built-in grill. The hull has a huge amount of volume so you can have either a three-cabin or four-cabin layout. In the latter, the 41 can sleep up to 10 souls. Dufour is known for innovation and the 41 is leading the way. A pure family cruiser, the 41 packs a lot in a relatively small envelope. Read more.
https://www.dufour-yachts.com/en/luxury-yachts/dufour-41/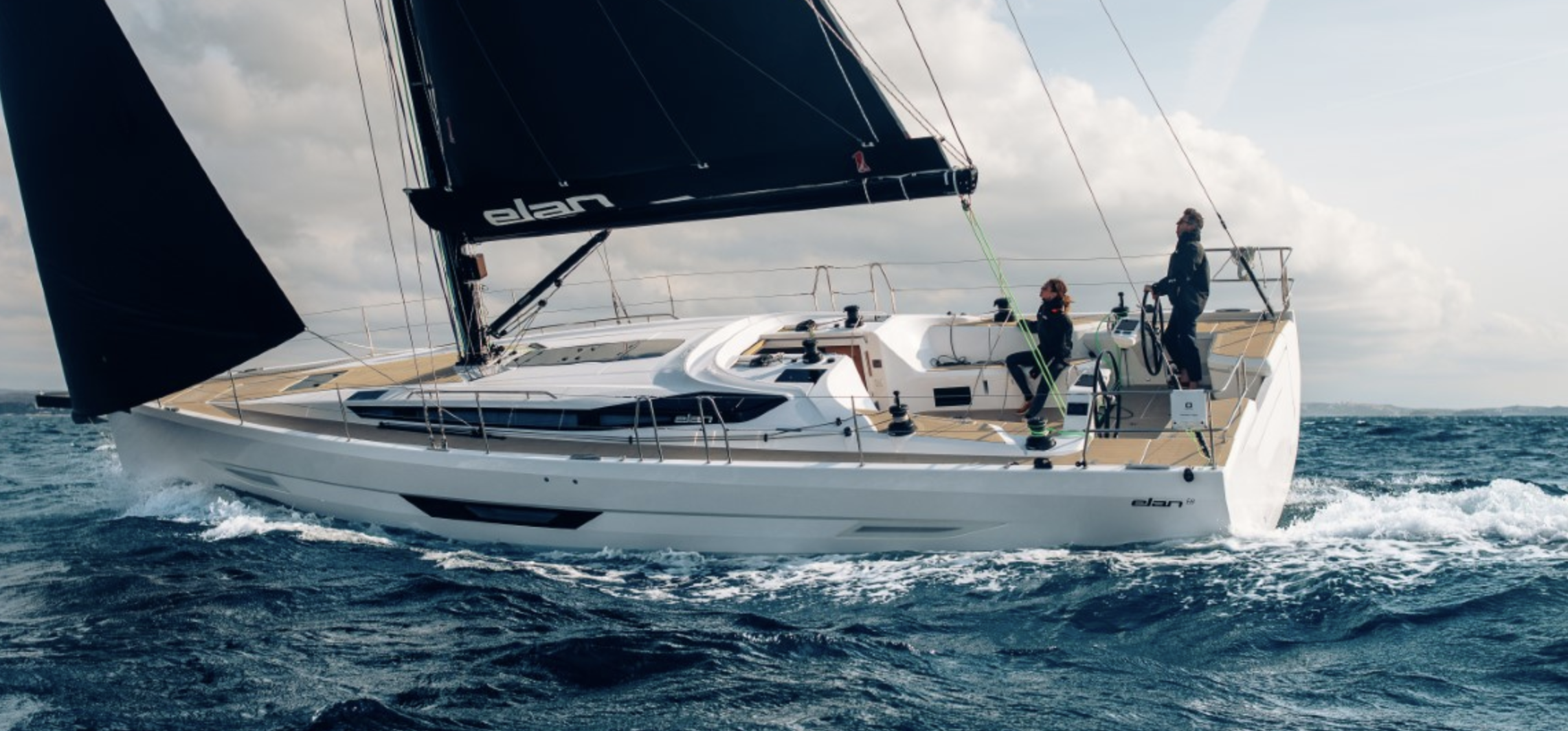 Elan E6
This 46-foot Rob Humphries design, introduced in 2022, is a sleek performance cruiser that can be handled by an experienced couple or manned by a full racing crew. It won the Design of the Year Award in Slovenia, where it is built, and was nominated for European Boat of the Year. Elan's E series boats are built with high tech composites for stiffness and weight savings. With twin rudders and a T-bulb keel, it will perform like a spirited sports car. The E6 comes with either a three or four cabin layout. A true performer, the E6 will be a thrill to cruise and race. Read more
https://www.elan-yachts.com/en/yacht-lines/impression-line/elan-impression-43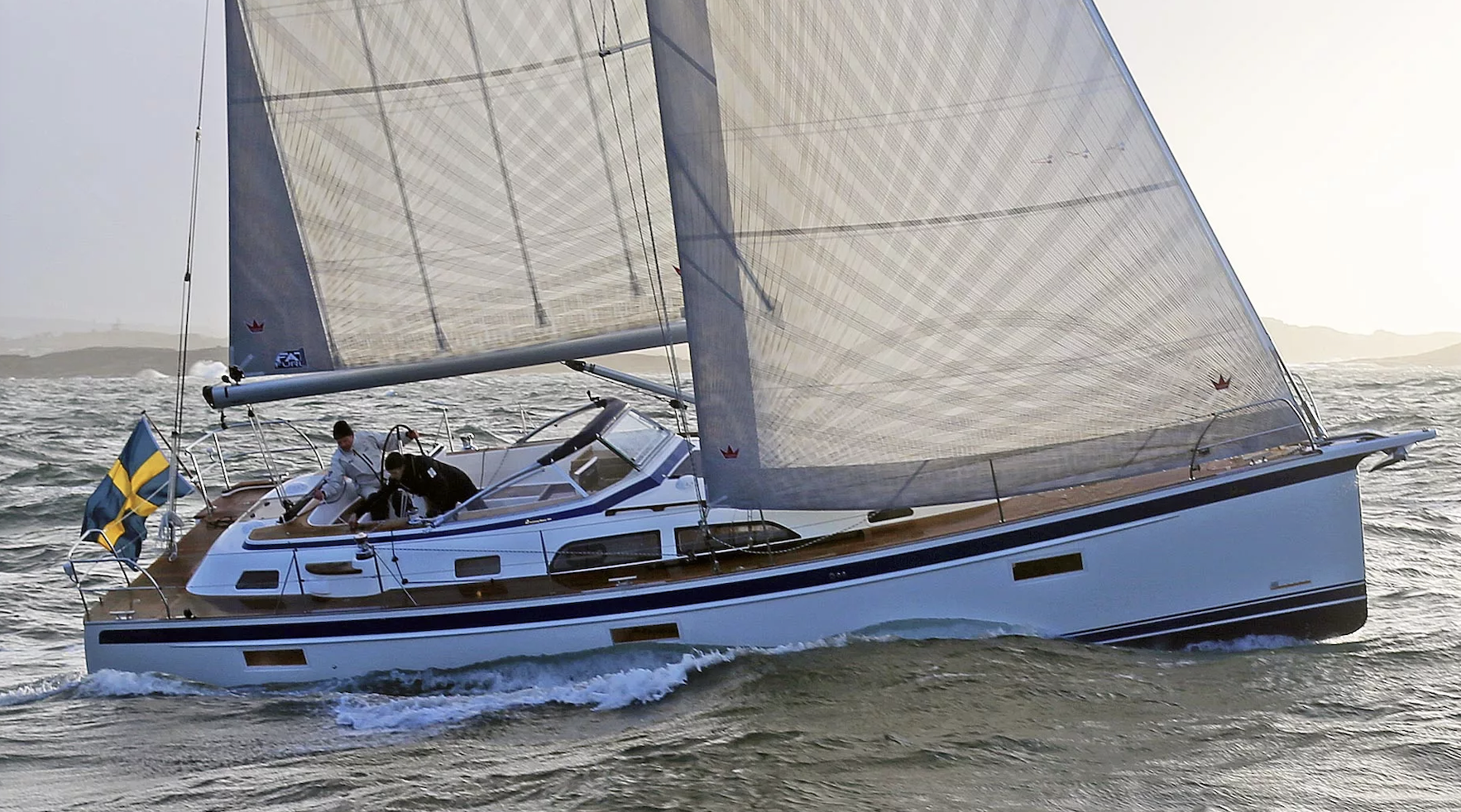 Hallberg Rassy 40C
The new HR 40C that was introduced last winter manages to pack all of the accommodations of the HR 44 into this smaller package. It is almost a magic trick. But, the Frers-designed hull has plenty of volume and HR knows how to make the most of it. The center cockpit is fairly large and can be protected with a hard dodger. Below, the aft cabin can have two berths or a single double. There is only one head. The galley and dinette are pure HR and will be excellent while on passage. This new HR will be many a couples ultimate cruising boat. Read more.
https://www.hallberg-rassy.com/yachts/hallberg-rassy-40c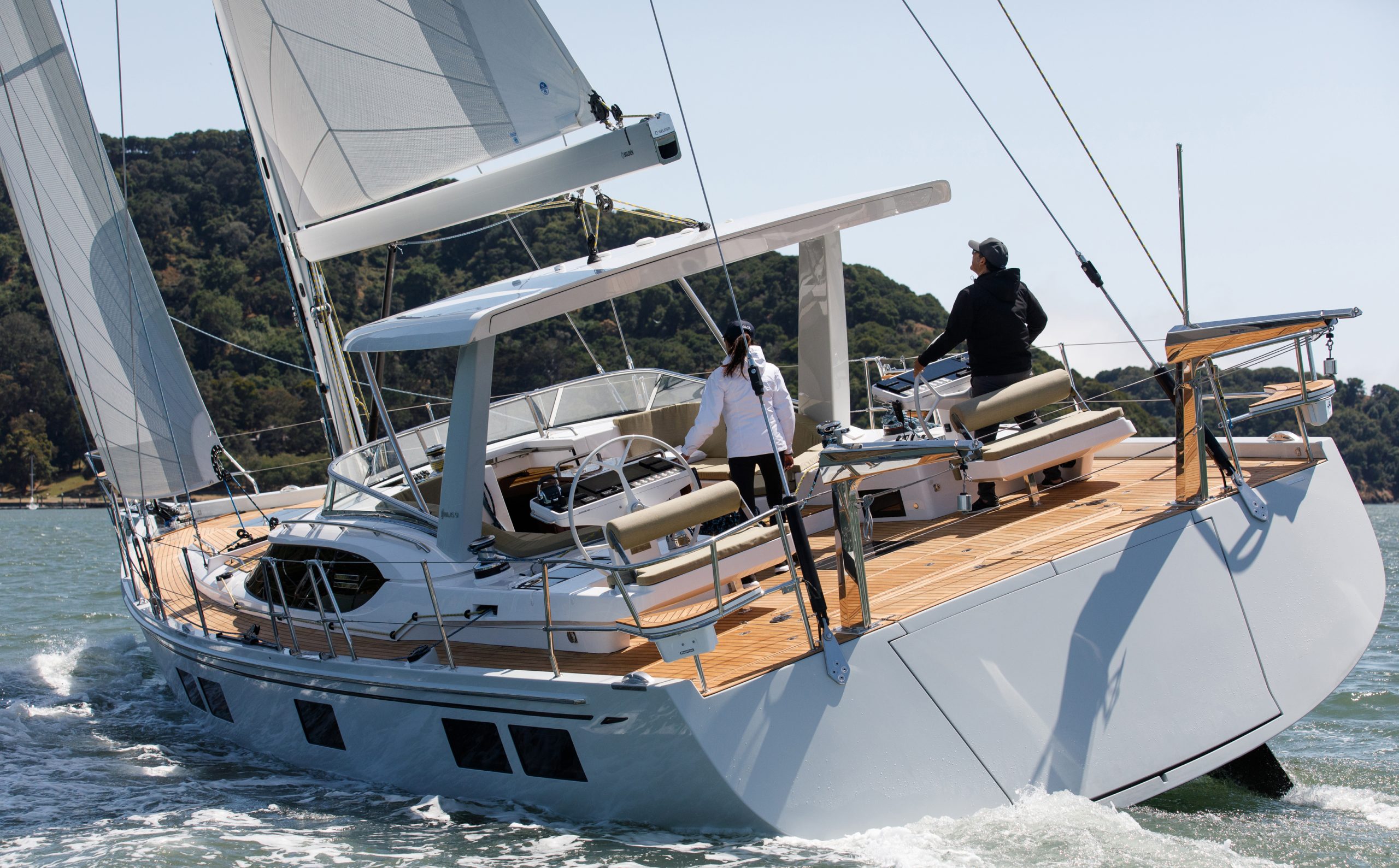 Hylas 57
The Hylas brand has long been associated with fine blue water sailing yachts and hundreds of them are out there exploring the world. The new Hylas 57, designed by Bill Dixon, brings that concept to new level. Innovations in the boat include the hybrid cockpit, with sail handling separated from lounging, the large hard top over the twin helms, twin rudders and a Solent-style sailing rig. Below, Hylas has gone with mega-yacht style and quality. It is a three-cabin boat with a huge saloon and chef's galley. And, with very advanced systems throughout, this may be the smartest cruising boat in the fleet. Read more.
https://www.hylasyachts.com/sailing-yachts/h57/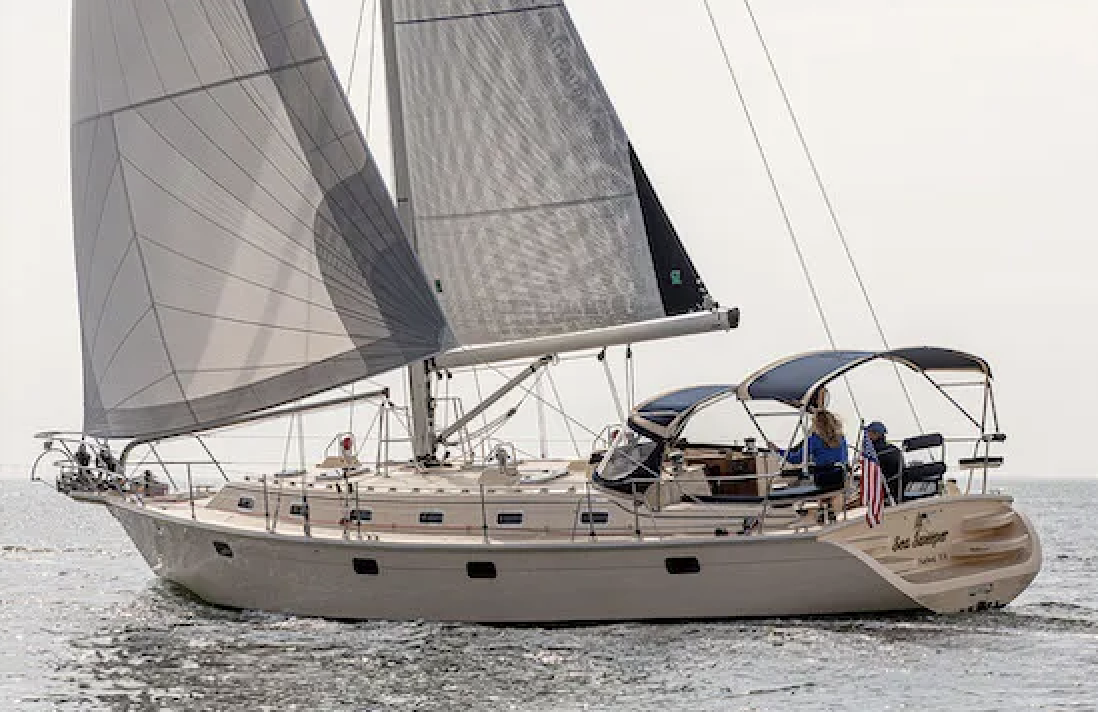 Island Packet 439
After more than 35 years in production, the Full Foil Keel designs that make Island Packet's unique still stir the passions of many cruising sailors. The 439, introduced a couple of years ago, sticks with that proven concept. The rigs uses a Hoyt jib-boom for the jib and a reacher is flown from the bow sprit. The cockpit is deep and secure and will be comfortable and safe at sea. The 439 is a two-cabin boat with double berths fore and aft. The saloon has two easy chairs, an L-shaped dinette with a fold down table and an excellent seagoing galley. If you're looking for a traditional blue water cruiser, the 439 has your name on it. Read more.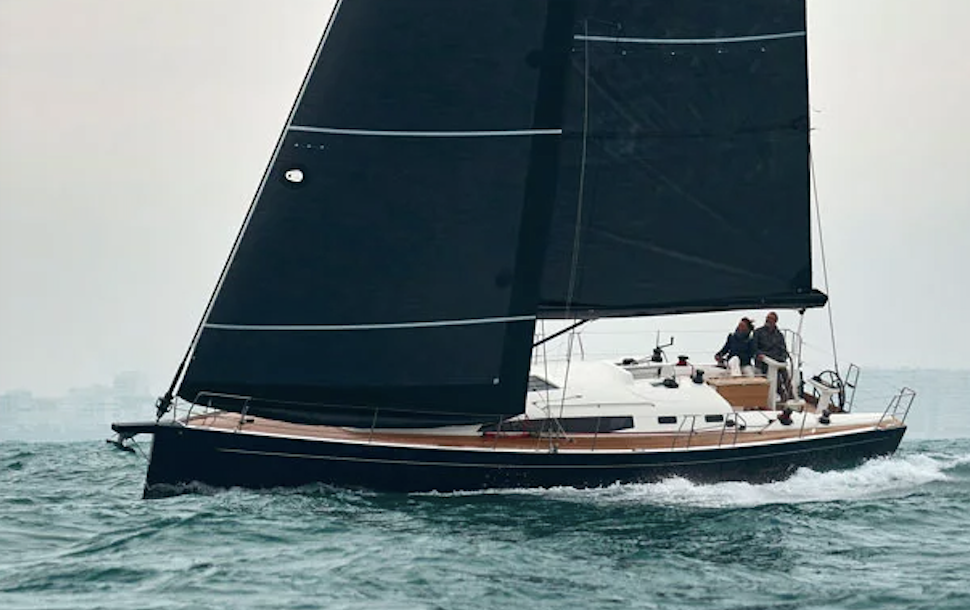 J/Boats J/45
As every sailor knows, J/Boats designs and builds performance sailing craft from the hugely popular J/80 to the J/60. The new J/45 was introduced in 2022 and has made a real splash in Europe and North America. The hull has a fairly narrow beam and a plumb bow and square stern. The rig is large and powerful with a big main, a self-tacking jib and downwind sails flown from the bow sprit. The cockpit is large and uncluttered. Down below you'll find double cabins fore and aft while a third cabin with bunk beds can be added to the starboard quarter cabin. The dinette will seat six and can be converted into a double berth. The U-shaped galley will be secure at sea. If you are looking for performance with J/Boats inimitable style, the 45 is it. Read more.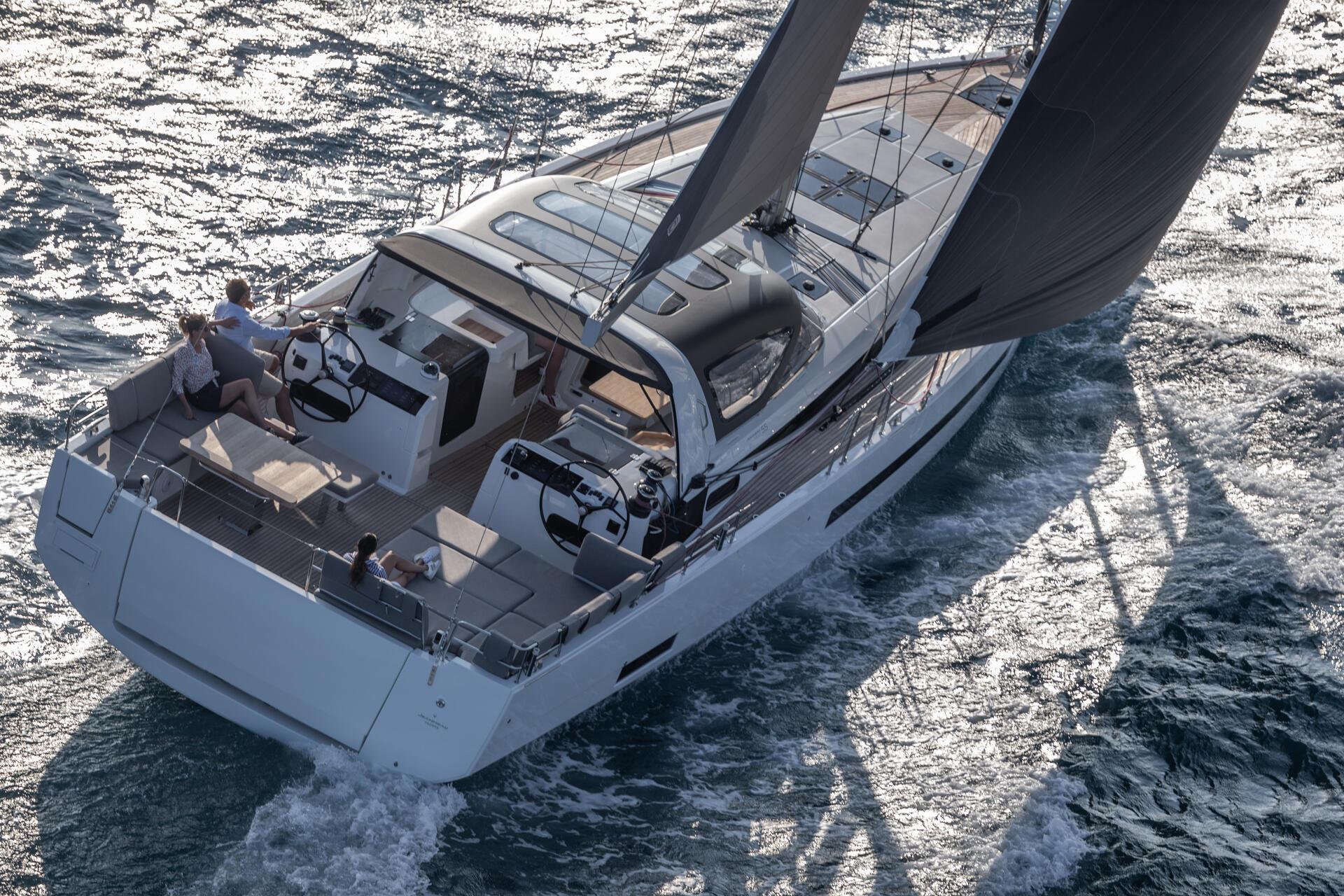 Jeanneau Yachts 55
Once again the designers and engineers at Jeanneau has thrown convention to the wind and come up with a truly innovative new design in the new 55. They threw out a conventional cockpit and put the fold-out lounging areas all the way aft and the helms and sail trim functions forward. They installed a Targa arch over the helms to keep the main sheet out of the way and as an anchor for the large dodger. Access to the two very private quarter cabins is from the cockpit not the saloon, which makes all the space forward of the companion way, including the dinette and galley, part of the large owner's suite in the bow. Wow. This is design innovation on the part of Philippe Briand and the Jeanneau team on an epic scale. Read more.
https://www.jeanneau.com/en-us/boats/sailboat/4-jeanneau-yachts/684-jeanneau-yachts-55
Nautor Swan 48 MkII
Forty eight feet is a magic number for Swan, the Finnish boat builder of luxury performance cruising yachts. The first 48 design was launched in 1971, the second in 1995, the third in 2019 and now, in 2023, a completely new Frers designed 48 MkII makes its debut. The new design is a thoroughly modern performance cruiser with that unique Swan aura of quality, excellence and timelessness.  The MkII has sleek lines, a low profile cabin top and squared off ends, with a bow sprit. The rig is powerful but manageable by a couple from the cockpit. Below, three double cabins are standard with a large airy saloon and galley. The quality of the build, the systems installations and fit and finish are second to none. Read more.
https://www.nautorswan.com/yachts/models/swan48-mkll/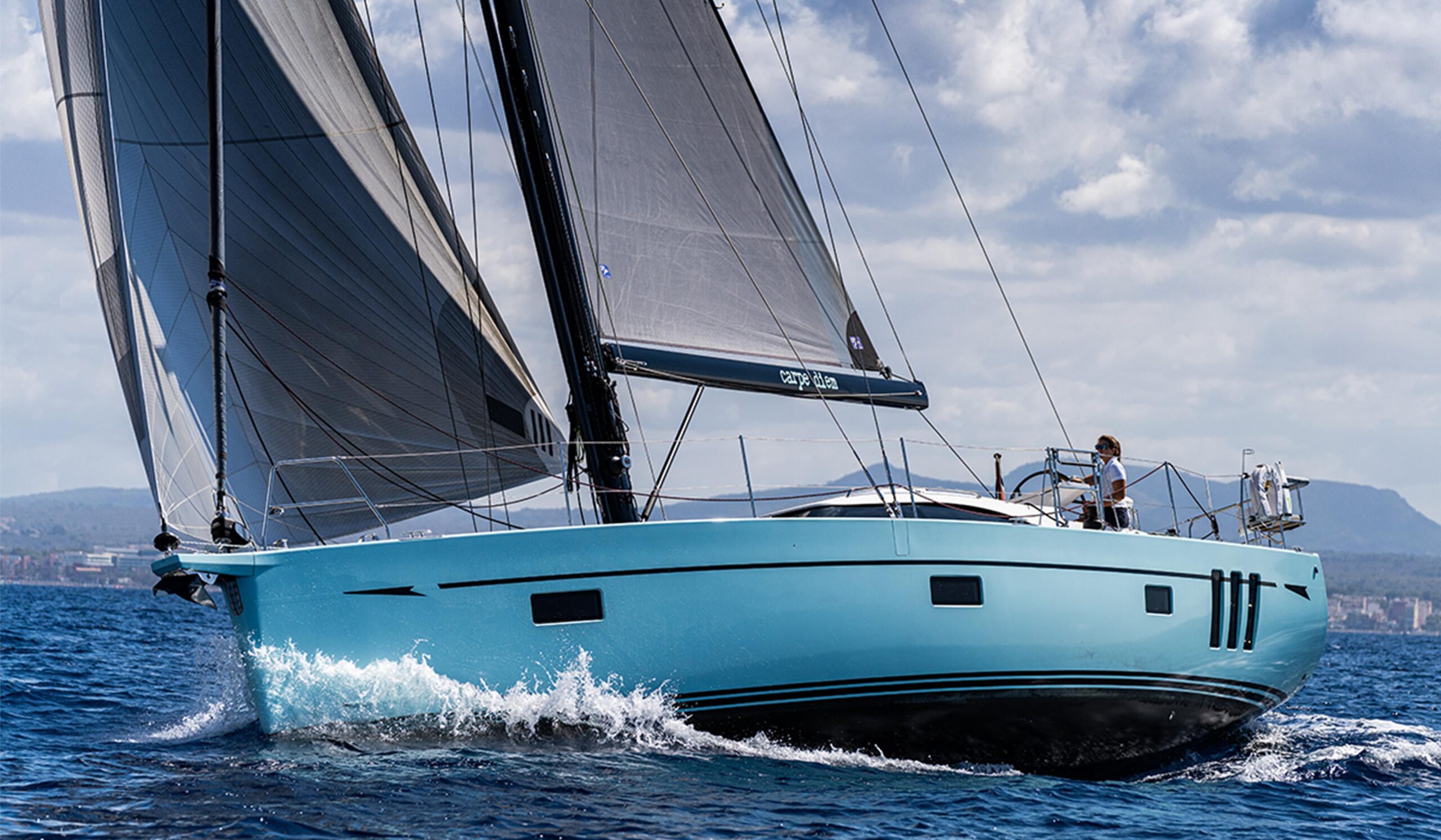 Oyster 495
Celebrating 50 years in business, Oyster went out and made real waves in 2022 by launching the new 495 that immediately won the 2023 European Yacht of the Year award. It is easy to see why. The 495 is the first Oyster under 50 feet that the builder has launched in many years. It is a classic couple's cruiser with all of the Oyster heritage, quality and blue water capabilities in it's DNA. A center-cockpit, raised deck saloon design, the 495 can be managed by a couple but will be comfortable for a crew of six accommodated in the master suite aft and the two guest cabins forward. Oysters are built to cross oceans and sail around the world. If that is on your bucket list and you need the right boat for the job, an Oyster 495 would be perfect. Read more.
https://oysteryachts.com/new-sailing-yachts/oyster-495/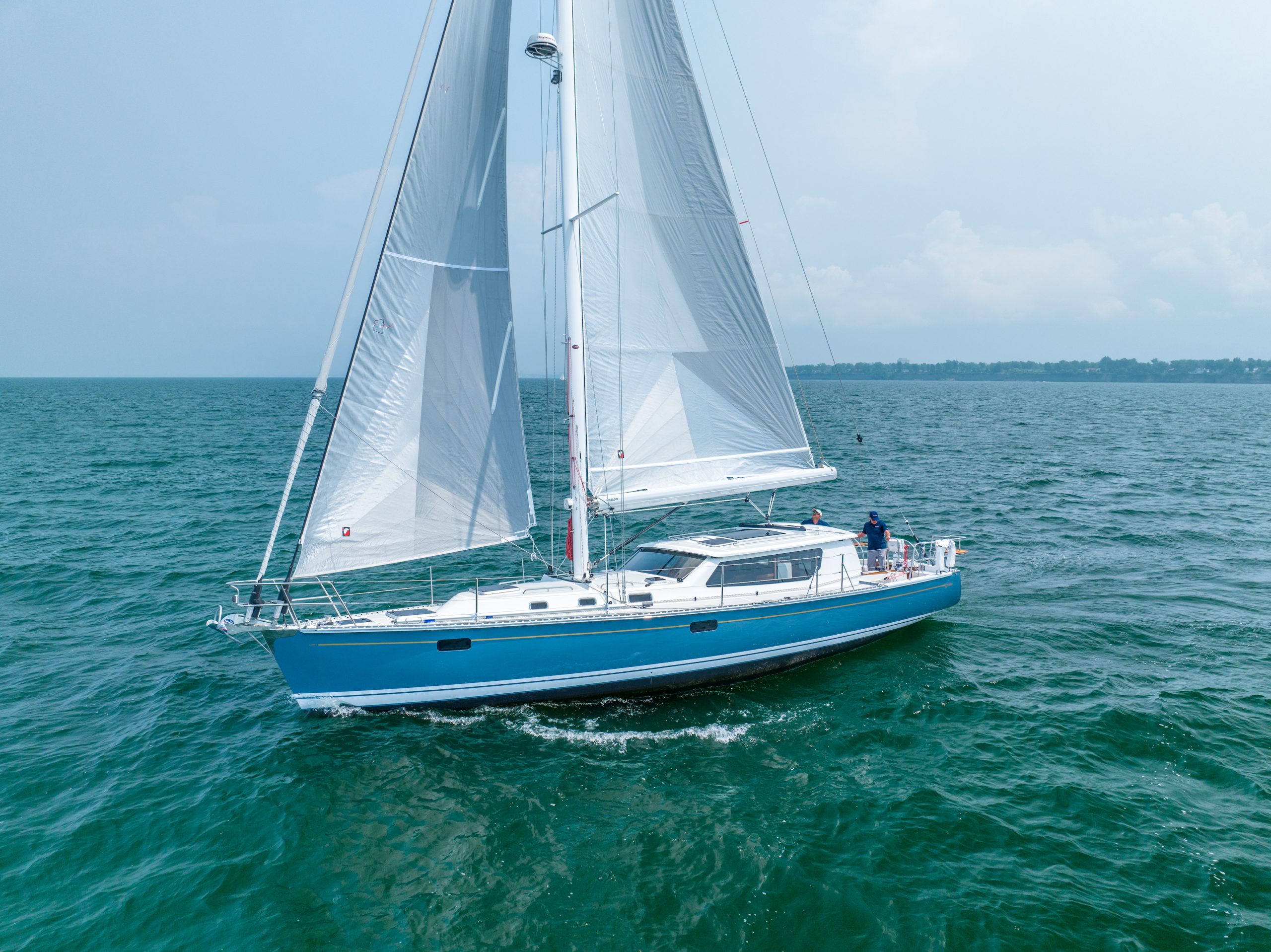 Tartan 455 Motorsailer
A motorsailer with an outside cockpit and standard helms and an inside steering station in the raised dog house appeals to a lot of sailors who want to remain comfortable in bad weather, extend their sailing seasons and motor a good speeds when necessary. Welcome to the Tartan 445 Motorsailer. This Tim Jackett design has a stylish cabin that fits the hulls neatly. Built in the U.S. by Tartan Yachts, it comes with an epoxy hull, a carbon Cruise Control Rig (self-tackling jib and reacher), and a very finely finished interior. Accommodations are either in two or three cabins, with two heads and a roomy saloon with a large dinette. A unique, practical and handsome addition to the Tartan line, the 455 does its job very well. Read more.
https://www.tartanyachts.com/models/tartan-455/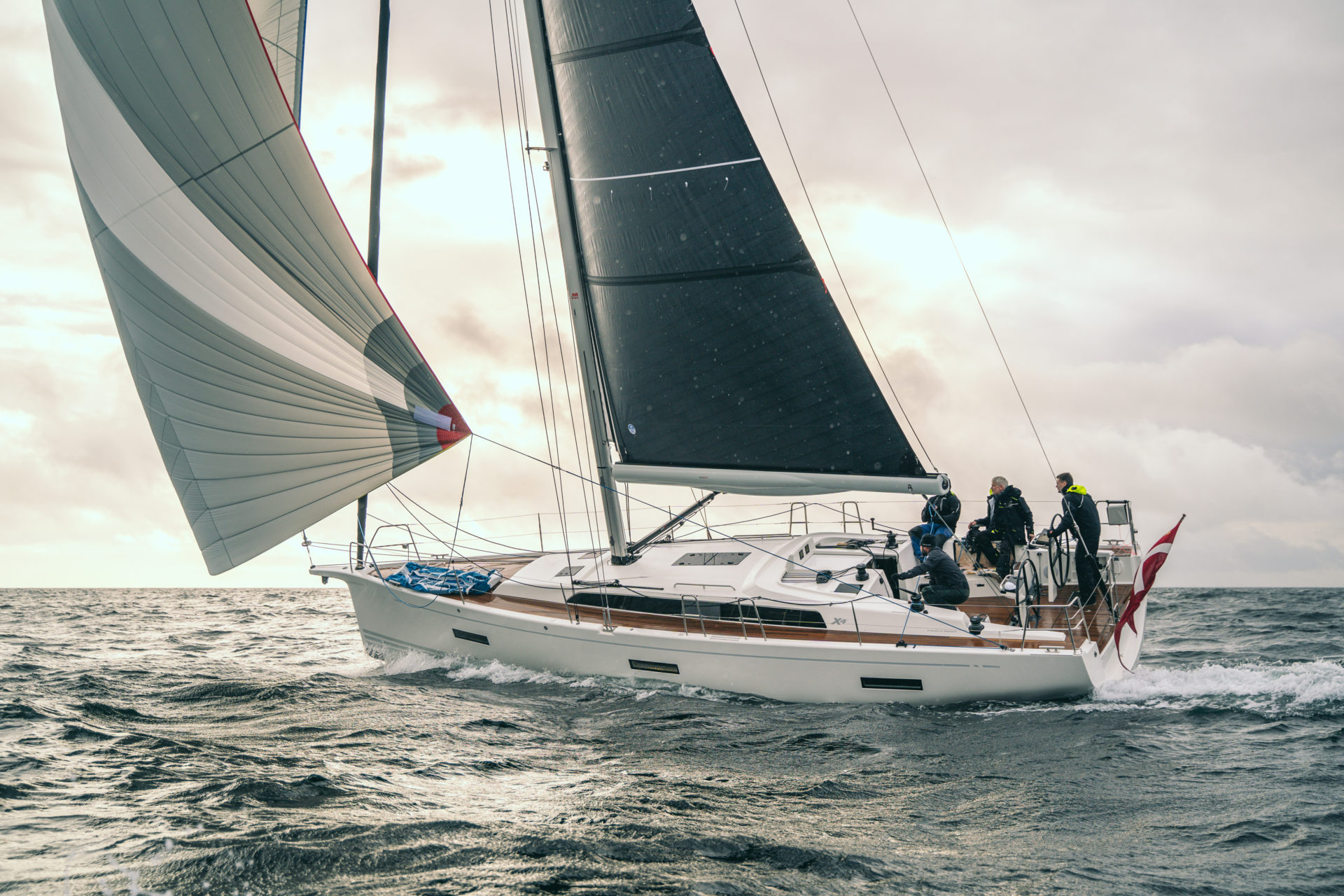 X-Yachts X 4.3
Last year, X-Yachts of Denmark did something unique. They replaced a very successful 43-foot model with a completely new 43-footer. The result has been excellent as the new model has sold out for more than two years. X-Yachts are prized in Europe and worldwide as ultra-high quality, Scandinavian performance cruisers that are built in three categories, the X racer-cruiser models, the XC cruisers, and the XP competitive performance cruisers. The builder is unique in that it uses only the most advanced materials and build techniques and creates yachts that should be considered heirlooms to be handed down to the grandchildren. And, they sail exceptionally well.  The X 4.3 can have either two or three cabins and heads and offers an airy, bright saloon with lots of hatches and ports and good ventilation. If you are looking for a superb sailing yacht with many custom options from a world-class builder, an X4.3 is a great choice. Read more.