With time at a premium for many sailors, we present six perfectly accessible areas for a weekend of cruising around the watery borders of the U.S.  (published August 2012)
Finding the best location for a three or four-day weekend of chartering involves more than just picking up a guide of the most famous cruising destinations. In our book, the area has to be conveniently located by a good airport, train station or major interstate highway; it has to have a selection of charter companies; and it needs to have lovely, secure harbors nearby where you can explore and relax without having to make 30-mile runs each day. Here are BWS's recommendations for great weekend getaways at each of the six corners of our country.
ONE—NEWPORT, RI
Called "the sailing capital of America" by locals, Newport is a storied sailing town, the former home of the America's Cup and gateway to some of the most famous sailing ports anywhere. In Newport, where you can charter from Bareboat Sailing Charters (www.bareboatsailing.com), you will find the Museum of Yachting, the International Yacht Restoration School, Sail Newport and a host of famous yacht clubs. Plus, you can visit Newport's famous mansions and dine at a good selection of local restaurants.
A few hours sailing inside Narragansett Bay will get you to Bristol (home of the Herreshoff Museum), Wickford, East Greenwich and several other charming New England seaports. You can anchor out or secure a slip at marinas in each village. For a secluded anchorage and good protection in bad weather, seek out the Kickamuit River just north of the Mount Hope Bridge in Mount Hope Bay. Or head farther up Narragansett Bay, where you can enjoy secluded Potter's Cove at the northern end of Prudence Island. Outside the bay and only a few hours away are Long Island, Block Island, Cuttyhunk, the Elizabeth Islands, Martha's Vineyard and Nantucket. You can also sail to New Bedford to visit the Whaling Museum or to Wood's Hole to see the Wood's Hole Institute.
You could spend a lifetime cruising southern New England and eastern Long Island. In three or four days, you can get a taste of what is known as one of the premier cruising grounds in the world. Plus, you will find plenty of secluded anchorages, beaches to stroll, osprey to watch and fish to catch.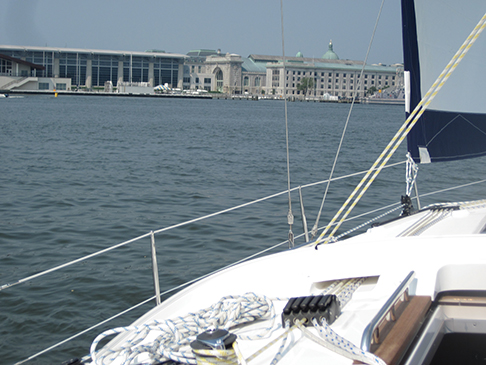 TWO—ANNAPOLIS, MD
The "other" sailing capital of America, Annapolis is close to excellent air, train and road connections and a doorway to the wonders of cruising the Chesapeake Bay. There are several charter companies in and around Annapolis, including Dream Yacht Charters (www.dreamyachtcharter.com), Bavaria Yachts (www.bavariayachts.com) and a new base for The Moorings (www.moorings.com). There are plenty of activities for sailors in Annapolis, such as visiting the U.S. Naval Academy, touring the historic state capitol, eating in fabulous restaurants and shopping along the main street. The preservation of historic homes and architecture makes Annapolis a true jewel of early America.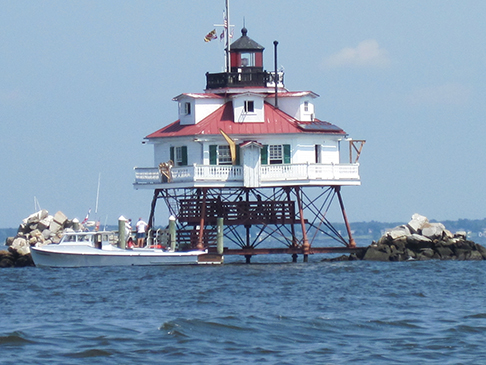 Not far from Annapolis, you can sail to the lovely and historic seaports of Oxford, St. Michaels and Solomons Island. Oxford is a charming village—one of the oldest in America, in fact. The town has not yet succumbed to the condo blight that is spreading up and down the Chesapeake Bay, so you can still see watermen plying the waterfront and walk along quiet, tree-lined streets amid charming old homes. St. Michaels is another lovely old town. The area is home to the Chesapeake Bay Maritime Museum, which offers a fascinating look at the bay, the wildlife that call it home, and the history of the people who have settled and thrived here. Solomons Island is now a tourist destination with several marinas to choose from, but it remains a true waterman's island; you will see classic bugeyes and skipjacks plying the waters, and in season the oysters will be as fresh and tasty as anywhere in the world. The Chesapeake Bay is a cruising paradise that can occupy as many long weekends as you can spare.
THREE—FLORIDA

    For fall, winter and spring sailing getaways, Florida should be on every charterer's list. On the Sunshine State's east coast, there are several great destinations for sailing. Ft. Lauderdale is a top choice since it is easy to get to and is a real sailor's town. Blue Water Sailing School (www.bwss.com ) and Fun in the Sun (www.funinthesunyachts.com) have charter fleets, and if you have time you can sail one of their boats across to the Bahamas for an extra long weekend. The Florida Yacht Group (www.floridayacht.com) also has bareboats available at their bases in the Palm Beaches, Miami, Key West and St. Petersburg.
Cruising the east coast of Florida gets you out into the Florida Straits, where the water is a lovely aqua and the wind is often the steady easterlies of the trade winds. A good destination from Ft. Lauderdale or Miami is Biscayne Bay, which offers good anchorages along the western shore of Key Biscayne and some nightlife ashore. If the weather turns nasty, you can always seek shelter in the little No Name harbor on Key Biscayne or beat a retreat to Miamarina in Miami.
On the west coast, the Everglades are reachable from Fort Myers. Southwest Florida Yacht Charters (www.swfyachts.com) has trawlers and sailboats to take you into this amazing national park, as well as to the many quiet and pleasant anchorages in the region. The Gulf is shallow and the navigation tricky if you are carrying depth. But the channels are well marked and the anchorages secure. Southwest Florida ranks as one of the best charter areas in America.
Farther north, in the Tampa Bay area you can charter from Sun Coast Adventure Center (www.suncoastadventurecenter.com) and set out to explore the St. Petersburg, Bradenton and Sarasota waterways or venture out into the Gulf for longer sails to destinations in Venice or Fort Myers. There are beautiful beaches all along this coast, so you will have plenty of chances to swim and sunbathe.
FOUR—LAKE SUPERIOR, APOSTLE ISLANDS
About an hour's drive east of Duluth International Airport (Minnesota) lie Lake Superior's Apostle Islands. The 22 islands are part of the Apostle Islands National Lakeshore and thus are protected and maintained by the National Park Service. These wild islands are home to eagles, deer and wildlife of all sorts. The islands are sandstone, so the windward sides are sculpted into dramatic cliffs, caves and promontories, while the leeward sides offer long sandy beaches with secure anchorages behind them. The water is cold, but you will find warm swimming spots along the beaches.
Sailing and navigating through the islands can be fun and challenging since the wind can gust from all angles as it swirls. Yet, even beginners will find this an easy place to cruise. For a truly wild sailing adventure on America's largest Great Lake, a long weekend exploring the Apostle Islands will have few rivals. You can charter out of Bayfield, Wisconsin, which is home to Superior Yacht Charters (www.superiorcharters.com)—one of the largest bareboat providers in the U.S.—and Sailboats Inc. (www.sailboats-inc.com), which has a fleet of a dozen boats.
FIVE—SAN FRANCISCO BAY
A long weekend sailing San Francisco Bay offers a wide variety of possibilities. Sailing out of Sausalito or Alameda, you can explore the mouth of the bay and the city or venture up the bay toward the Delta and the Napa River. You will need to follow the restrictions in your charter contract, but there are many great places to visit in three or four days.
The Aquatic Park off Fisherman's Wharf offers a free, protected anchorage for sailboats from which you can explore the city. Sail across the bay and you can stay at the Paradise Cay Yacht Harbor, from which you can explore Belvedere and Tiburon. Eastward across the bay, you can sail to the port of Oakland and find a slip at the Jack London Square Marina, home to several good restaurants. For those who want to sail farther inland, you can head north to the Delta and gunkhole to your heart's content amid the marshes, islets and waterfowl.
And then there's the Napa River, where you can pick your way inland up the narrow channel and through the drawbridges until you enter the river proper. From there, motor north into Napa, where you will find the Napa Valley Marina or a yacht club a little farther on, both of which welcome visiting yachts. Once in Napa, you will know what to do.
San Francisco Bay has many good anchorages in settled weather, so even if you don't want to venture far and wide, you can still enjoy a few days of peace and quiet in this spectacularly lovely body of water. You can bareboat charter on the bay with Atlantis Yacht Charters (www.yachtcharter.com), Modern Sailing School (www.modernsailing.com), Club Nautique (www.clubnautique.net) and Sunsail (www.sunsail.com).
SIX—SAN JUAN ISLANDS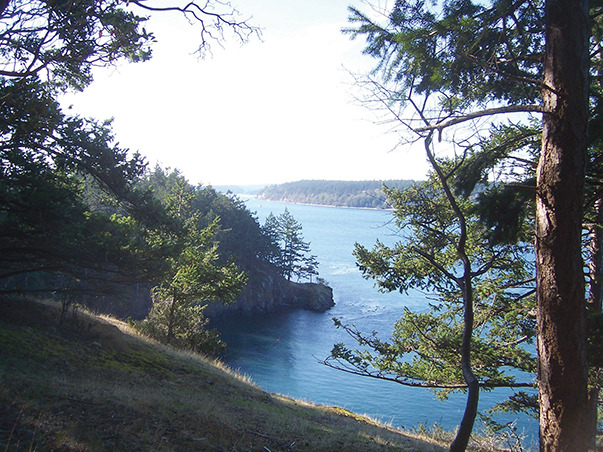 One of the most popular bareboat destinations in North America, the San Juan Islands offer the perfect area for a fun and varied long weekend of cruising. You can fly into Seattle or Bellingham, and from there make your way to Anacortes either by car or by air charter. The top companies offering sailboats for charter close to the San Juan Islands are The Moorings (www.moorings.com), Anacortes Yacht Charters (www.ayc.com) and ABC Yacht Charters (www.abcyachtcharters.com). All three can accommodate your needs. Northwest Explorations in Bellingham (www.nwexplorations.com) offers trawlers, which are popular in the area.
For a three or four-day cruise to the San Juans, you will want to plan to keep the daily sailing legs fairly short so you can spend time enjoying the islands, waterfront and wildlife. Friday Harbor is a great spot to take the crew out for dinner and enjoy the ambience of a remote and funky town. Two state parks offer good anchorages and easy access to the wilderness. Spencer Spit State Park is only a short sail from Anacortes and might make a good lunch break on the way to Friday Harbor. Sucia Island State Park is in the north and will expose you to the wildest region of the islands. On Orcas Island, you can visit the Rosario Resort and Marina for a chance to experience a classic old school resort and explore a beautiful island. You will see bald eagles in the air and there is a good chance you will see orcas cavorting in the channels between the islands. If you are looking to really get away from the madding crowd for a few days and immerse yourself in one of North America's choicest and wildest cruising grounds, the San Juan Islands are for you.