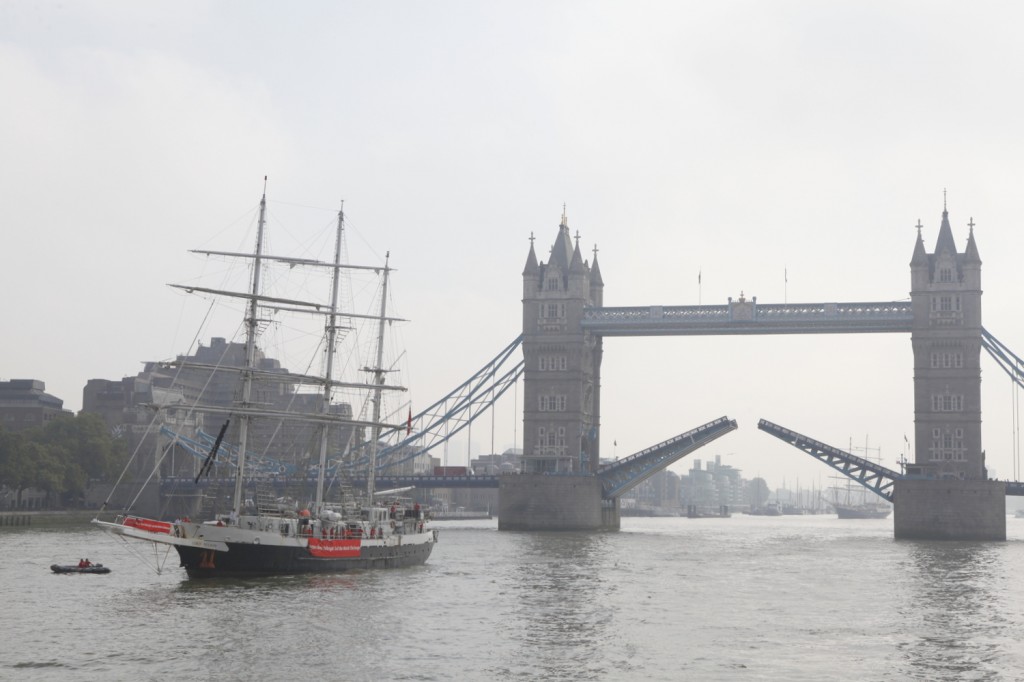 Lord Nelson has arrived home in London after being away for almost two years on her epic Norton Rose Fulbright Sail the World Challenge. where people living with disabilities helped crew the ship.
Sailing down the Thames, accompanied by Tenacious, she arrived to a superb homecoming celebration, organized by the sponsors of this impressive challenge – Norton Rose Fulbright.
Lord Nelson sailed through Tower Bridge at 10:30am. Jubilee Sailing Trust supporters lined the quayside waving her in and the Royal Marines Band played as she came alongside HMS Belfast. Tenacious berthed before Tower Bridge alongside HMS President.
During her Sail the World challenge, Lord Nelson has travelled 51,000 nautical miles, crossed the equator 6 times, served over 2 million meals, consumed ½ a million apples and called in to over 100 ports, all the while being crewed by over 1000 people – both able-bodied and physically disabled.
Lord Nelson set sail from Southampton in September 2012, and since then has carried the Olympic Torch to Rio de Janeiro, Brazil, and crossed the Indian Ocean to Kochi, India. She took part in the International Fleet Review in Sydney Harbour, and was the first mixed-ability vessel to sail around the infamous Cape Horn in southern Chile in February this year.
About Jubilee Sailing Trust:
The JST takes both disabled and able-bodied men and women to sea, to not only teach them how to crew a tall ship, but to promote equality, sharing, and to celebrate our individual differences by working together to achieve greater things.
Since the JST was established in 1978 over 36,000 people have sailed with us. Of these approximately 12,500 people were disabled and 4,500 wheelchair users.
Courtesy of jst.org.uk