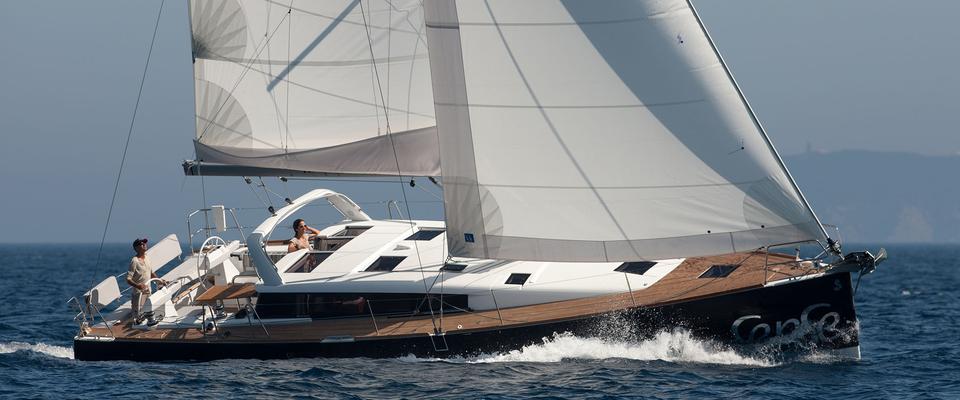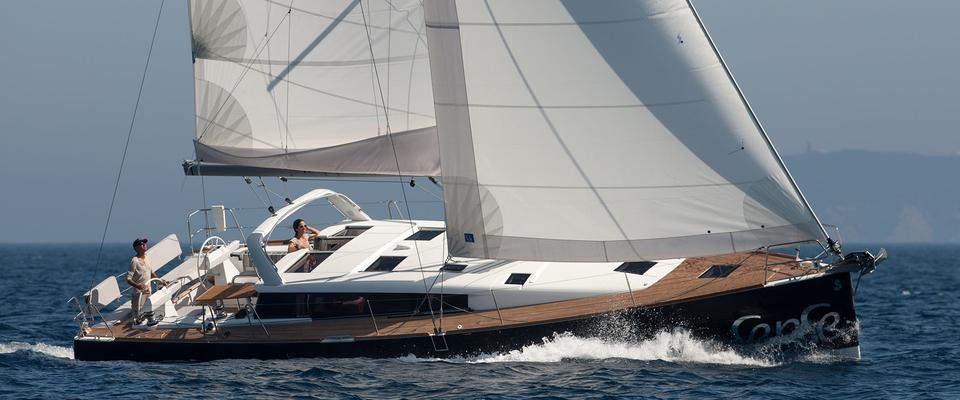 As I stepped out of the car, clouds hurried across the sky, giving way to sunshine and what promised to be a picture-perfect day to sail the new Beneteau Sense 46 in Annapolis, MD. With hard chines, a generous beam and large cockpit, it was easy to spot the Sense 46 from the parking lot. Up close, the boat looked as though it could sail well and carry all of my friends, family and co-workers at the same time.
The Sense 46, which rounds out a fleet that includes the 43, 50 and 55, had debuted just days earlier at the United States Sailboat Show. I was happy to climb aboard for the first time, as I had failed at several prior attempts during the show due to a constant crowd.
Glistening as the sun worked to dry off the morning dew, I walked the deck while we motored out and could not help but feel seduced by the boat's clean and functional layout of running and standing rigging. The mainsheet is out of the way, conveniently located on an arch above the companionway, and halyards and control lines are led aft under the deck to well-placed clutches and winches that make for easy sail handling when shorthanded.
After picking up a few extra crew members, we rolled the sails out and were soon slaloming our way through anchored boats in Annapolis Harbor. The breeze was at a consistent 15 knots and we smoothly reached downwind away from the waterfront. With five of us in the cockpit, there was plenty of room to spread out and we tucked in a few jibes before turning upwind to see what this beamy broad could do close-hauled.
The 46's beautifully cut radial mainsail and slightly overlapping genoa efficiently devoured every bit of wind coming at us. The boat we sailed had a roller furling main and genoa, though there are several sail plan options including a full-batten main with lazy jacks and a lazy bag, a code zero, an asymmetric spinnaker with sock, and an inner forestay with a self-tacking staysail.
With just a slight heel, we turned 15 knots of true wind into an effortless 6 to 7 knots of boat speed. Taking every wind shift that came off the Naval Academy in stride, the 46 easily tacked between 90 degrees and I was astounded at how quickly this 14.5-foot wide, 26,000-pound boat accelerated each time the jib was trimmed on our new course. This immense stability and responsiveness were part of the strategy laid out by Berret Racoupeau Yacht Design when they sat down to design the Sense fleet. With an LWL of 42'5'', a wide beam and hard chines, the designers clearly meant for this to be a fast and stable boat. In creating the Sense series they are really trying to attract boat buyers who might be looking towards a catamaran, and in my mind, they've come about as close as you can in matching the stability of a multihull.
Not only was I thoroughly impressed by the Sense's stability and performance, but I marveled at how easy she was to steer. I positioned myself to leeward so I could get a clear view of the telltales, and with just a few fingers on the helm, I steered the boat upwind. I couldn't help but think I wasn't doing much as it seemed the Sense was driving itself—I was merely there as a guide. I wondered aloud if the boat had twin rudders and was told it does, which made sense as steering seemed almost too easy.
Though I didn't want the ride to end, we sailed back for the channel, fired up the 75-horsepower Yanmar and made quick work of putting the sails to bed. In the flat water of Back Creek I gave the 46 some power and we easily jumped up to 7 knots of boat speed. Fitted with Beneteau's joystick "dock and go" system, sail drive and bow thruster, the boat was incredibly easy to maneuver under power in a tight space. I was charged with the task of backing into a slip that the Sense's beam made look very narrow, but even with a stiff crosswind she handled easily in reverse and I only needed one slight touch on the bow thruster to keep us in line.
The Sense 46 was a fun and easy boat to sail. I have sailed a lot of newer boats in this size range and the 46 clearly has a uniquely stable design. I was impressed with her upwind and downwind performance and ease of handling under power. I can definitely see this boat doing as well as her fleetmates.
LIVING ABOARD
Space is not at a premium on the Sense 46. Starting with a huge open cockpit, it just gets better as you go forward. Keeping with the desire to lure potential catamaran and powerboat buyers, the designer of the Sense series split the boat into three distinct living spaces—a patio-esqe after deck, a communal living room and galley amidships, and two private sleeping cabins and heads forward.
Because the beam is carried so far aft, the cockpit becomes a spacious area not only for sailing the boat, but for entertaining as well. I can easily imagine this boat parked in a far-flung anchorage with a dozen dinghies attached to the stern and a party of people enjoying a sunset.
Not only is the cockpit a great place for entertaining, but it is also functional. The winches and lines are placed in easy to get to (and trim from) locations, and the helmsman has multiple steering options, including port and starboard two-height adjustable steering seats. The stern access for swimming and getting in and out of a dinghy is one of the best I have seen on boats in this size range. Also, because the boat does not have starboard and port aft cabins, there is abundant storage space on deck, including a locker to store gas, a liferaft storage compartment, and space for a generator (which we had).
Moving forward into the saloon and galley, you take a couple easy steps down and are instantly dazzled by the top-notch interior design done by Nauta Design. The lighting is soft and comfortable, with LEDs used throughout and large windows and hatches that let in an abundance of fresh air and sunlight. The Fruitwood Alpi joinery adds to the light and airy feel and perfectly compliments the cutting edge Euro styling. The interior headroom ranges from 6'1" to 6'7", and handholds are well placed for moving around the cabin while underway or in a rolling anchorage.
To port is an inline galley with a substantial amount of counter space, top-loading fridge, two-basin sink and plenty of storage. The rest of the saloon is well laid out, with a large, U-shaped settee, functional nav station with a 15-degree tilting seat to compensate for heel, and a center island perfect for leaning against while cooking at sea or holding onto as you pass forward. Plus, it has more storage space and can be fitted with a flatscreen TV that pops up from the inside.
Forward of the saloon are two staterooms and heads. The guest cabin is to port with a queen-size berth and an en suite shower room and sink. Across to starboard are the head and another sink—easily accessible for visitors. The forward cabin is clearly the owner's suite and features an island berth and an en suite head and shower. Large windows to port and starboard, coupled with a hatch above the bed, give the cabin a nice open feel. Hanging lockers, cubbyholes and cupboards are well placed in each cabin and offer enough space to store clothing for a week or a year.
BWS THOUGHTS
Beneteau clearly has something good on their hands with the Sense 46. The boat exceeded my expectations in terms of sailing ability, and the open aspects of its design—both inside and out—really caught my eye. I envision this boat as an excellent family cruiser, and every owner will want to invite friends out for afternoons and weekends of smooth sailing.
The Sense series is certainly unique, and discerning buyers who take a good look at its features and design will fall in love. And when they do, I hope they invite me along for a sail.
Beneteau Sense 46
LOA46'4''
LWL45'4''
Beam14'6''
Draft6'9"
Draft (shoal)5'9"
Displ.26,007 lbs
Sail area1072 sq. ft.
Fuel 106 gals.
Water182 gals.
Engine 75 hp
Beneteau USA
1313 West Hwy 76
Marion, SC 29571
843-629-5300
www.beneteauusa.com