With hurricane season fast approaching, it's essential for cruisers and boat owners in the Caribbean to have a plan and time to execute it. The most popular option among cruisers of the Eastern Caribbean is to spend the season on the island of Grenada. Located 100 miles north of Venezuela, Grenada is a country of the West-Indies and the southernmost island of the Lesser Antilles. It has a population of 107,000, and its inhabitants are warm and welcoming.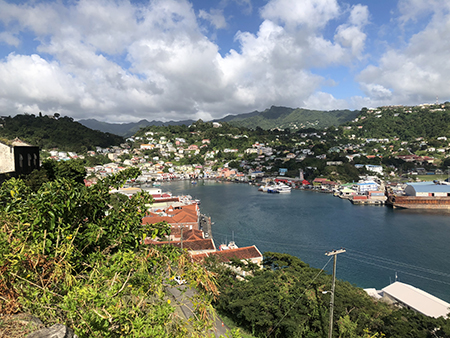 While Grenada has suffered from the devastation of four hurricanes in the past 100 years, the incidences are far lower than that of its northerly neighbors. Another benefit of spending hurricane season in Grenada is the fact that most insurance companies are happy to insure vessels below 12°N, which is where the southern side of Grenada conveniently lies. With adequate preparation, time and vigilance, a season in Grenada is not only safe but extremely enjoyable.
   Known as the Spice Isle, Grenada's fertile land is famous for the production of nutmeg, cinnamon, mace, and cocoa, with the various scents being carried on the warm Caribbean breeze. The lush green rainforests, an abundance of attractions and vibrant social scene, not to mention the ample boating facilities, attract cruisers from around the world each and every season.
Officially, the hurricane season runs from June 1 until November 30; however, the majority of cruisers arrive in Grenada between June and August and stay until mid to late October. With the highest incidence of hurricanes occurring between mid-August to mid-September, particular vigilance should be taken during this time. It is imperative that cruisers keep a close eye on weather forecasts. A well-maintained boat is paramount, and cruisers should be ready to set sail at all times, with full tanks of fuel, water, and provisions, should a storm appraoch.
A typical plan for liveaboard cruisers, if the four-day forecast is looking worrisome, is to sail 90 miles south to the island of Trinidad, located off the coast of Venezuela. Trinidad has experienced only one hurricane in the last 100 years. Alternatively, Grenada has numerous storage facilities, with Spice Island Marine and Clarke's Court boatyard being the two major haul-out facilities, providing hurricane tie-down straps, cradles and blocks for boats up to 240 ton and 37 feet of beam. However, both yards are popular, and it is important to make bookings well in advance. If you plan to conduct repairs or maintenance during hurricane season, then Grenada is the perfect location; with numerous chandleries, hardware stores, marine services, and qualified tradesmen, no job is too big or too small.
   Grenada has a wonderful community spirit and a season on this warm, unspoiled island will have you questioning if you ever want to leave. Not surprisingly, many cruisers wind up staying much longer than initially intended. With numerous large supermarkets, local produce markets and a substantial cash and carry bulk store, provisioning in Grenada is easy.
   Transportation around the entire island is extremely user-friendly, and a ride on the local buses is a must, if not for entertainment purposes alone. Abundant in natural beauty, Grenada boasts numerous idyllic beaches, cascading waterfalls and lush tropical forests, complete with a wealth of tropical fruits, and animals such as iguanas, monkeys, and manicous. Activities are plentiful on the island with cruisers attending events such as trivia, bingo, volleyball, hiking, music jams and movie nights, which are all a weekly occurrence.
Boasting seven marinas, over a dozen anchorages and four boatyards, Grenada can accommodate thousands of boats without seeming crowded. The island is also popular among families and with over 50 children spread throughout the anchorages last season there was a feeling like one big summer camp for the little crew members. Children's activities include an annual sailing school, swimming lessons and art, and craft sessions. There is also an active cruisers net each morning on VHF channel 66i and children can participate in their own net throughout the season.
Lastly, if you'd rather leave your boat unaccompanied during hurricane season, Grenada has an international airport with daily flights to America, Europe, and numerous other Caribbean islands. There are also boat security services that will look after your boat on anchor or mooring ball if that's what you'd prefer. There's something for everyone during hurricane season in Grenada, and time spent on this vibrant and seductive island will remain an unforgettable experience in your cruising memories for many years to come.  — Erin Carey