Here's another great set of tips from our friend Capt. John from skippertips.com that will help you navigate safely…
Black night, high winds seasoned with short, steep seas. Ahead of you; to the right of you; to the left of you, clusters of lights appear to rise up out of the ocean. As you sail closer, they appear to be tall, flat-topped sea monsters. What steps can you take to avoid collision with these dangers when sailing near the coast?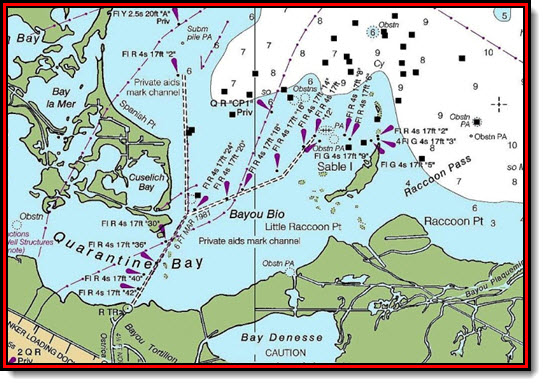 No matter where you sail, make sure that you recognize those symbols that signify offshore oil platforms that You may see these along any coastline in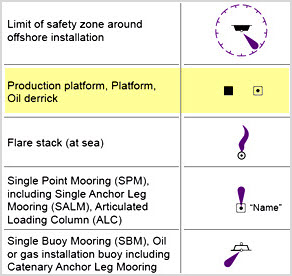 the world. Some areas, like America's Gulf of Mexico, contain dozens.
Look at the illustration to the right and note the black or white squares on the second row down (highlighted).
These are the most common chart symbols used to represent oil platforms on National Oceanographic and Atmospheric Administration (NOAA) charts used in United States waters.
Compare these symbols to the chart illustration above. This chart shows a cluster of oil platforms in the Gulf of Mexico. Notice how close those platforms are to the dredged channels that lead inshore. That's a sure-fire indicator that you can expect commercial vessel traffic in this area.
I believe offshore oil platforms are some of the most dangerous symbols you will see on your nautical chart. They can be tough to spot on some charts.
Scan and highlight these hazards for sailing safety. Expect to encounter heavy traffic nearby that could increase the risk of collision day or night. Now on to a sea tale from long ago…
Case Study in Chaos and Collision Avoidance
"You're taking us in tonight" said our skipper. After all, I was navigator and a ship driver aboard the 133 foot coastal buoy tender. We were scheduled for haul-out at the big shipyard located deep the bayous in Lockport, Louisiana.
Our ship departed Saint Petersburg, Florida in the early afternoon. Now we were headed west to our next port 'o call. Little did we realize that our challenges that night would tax our navigation skills to the max.
The Captain wanted to avoid the mouth of the Mississippi because we would be entering at nightfall. Instead, we would transit shoal infested Cat Island Pass farther to the west. This would shave off some miles to our destination and keep us out of heavy shipping traffic–or so we thought (more on that later).
We pulled out the largest scale approach and close coastal charts for our passage. Black square platform symbols appeared more often close to the Louisiana coastline. We set our course to clear platform clusters by at least a quarter of a mile.
As night fell, hundreds of bright white lights appeared as the platforms turned on their deck and work lights. This made sighting a vessel's navigation lights (masthead, stern or side lights) difficult.
And then it began. Chaos. The "crew-boat" type of chaos. All night long, these small vessels ran back and forth to the oil platforms to deliver relief crews and take off-going crews ashore.
Some of the crew-boat skippers seemed oblivious to anything in their way. That included our 133 foot coastal buoy tender! Time and again, a crew-boat would appear out of nowhere. Their skippers, going full speed, would cut across our bow.
More than once we had to use full rudder (wheel) to avoid collision. In some cases, we came within yards of contact. Never on any watch have I seen such absolute insanity on the water. Some of those crew-boat skippers were downright nuts!
Lesson learned? Use extra caution in an area where any type of platform, offshore derrick, or large mooring buoy used by vessels engaged in the gas industry proliferate. Double up the watch if necessary.
Realize that most platforms are manned by crews that work "round the clock". And that means those crews will need to be relieved, supplies replenished and product offloaded. Sail defensive. Assume that they do not see you and stay clear.
~~~~~~~~~~~~~~~~~~~~
Use these sailing tips when sailing or cruising near the coast. Sail with a defensive mindset near platforms to keep your small sailboat and her crew safe and sound.