Don't capitalize it and don't pronounce it like the footwear. It's "boot" and it simply means "boat" in German. It's a spectacle that every boater must see at least once in his or her lifetime because whether you like power or sailboats, kayaks or canoes, surf or paddleboards, dive gear or even marine art, you'll find it in this western German city every January. This year, we even spotted a real live prince.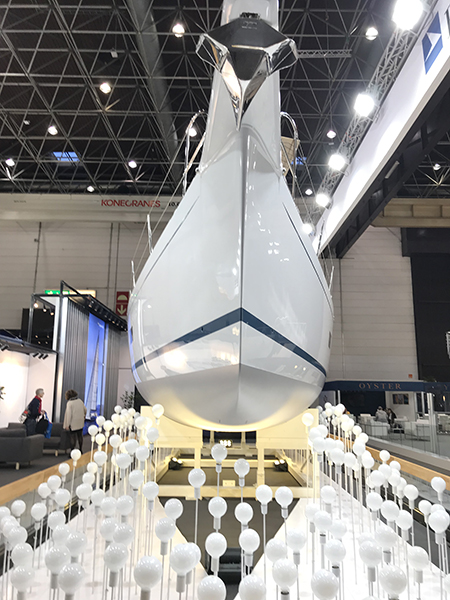 It may be the dead of winter in Europe but some 2,000 exhibitors from 70+ countries make the annual journey to Dusseldorf's Messe exhibition center where 16 halls provide over 2.3 million square feet of exhibit space. About a quarter million attendees from over 100 countries came in 2019 during the show's nine days to check out boats and equipment to be used on, in or under the water.
An 80-foot power yacht is a sight to behold when out of the water. Numerous behemoths from Monte Carlo Yachts, Princess, Azimut, Absolute and some European brands we don't even know on this side of the Atlantic are on display in all their enormous glory.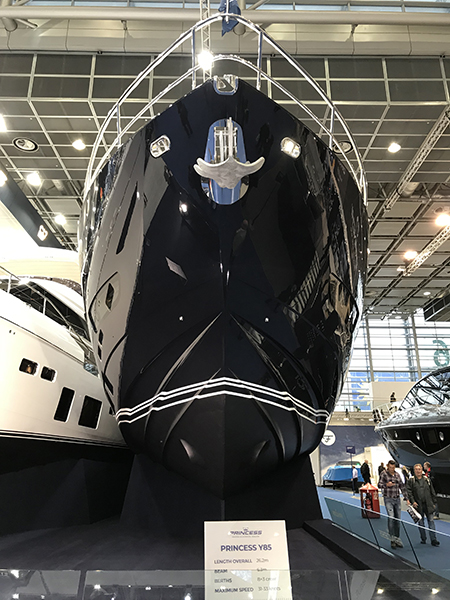 Sailboats and sailing multihulls take up two halls. Exhibitors like Oyster, Bali, Lagoon, Beneteau, Hanse, Solaris and Elan are packed into Halls 15 and 16. Smaller designs are tucked in complete with keel and full rig. Large models either have no keels or sport truncated show masts, which enable the show to display boats up to 70 feet.
Although devoid of actual vessels, the superyacht pavilion houses premier design firms, yacht transport companies, crew staffing organizations and even some eyebrow-raising onboard art selections. Trailer and towboats, RIBs and PWCs fill numerous halls and with nearly 1,500 boats of all kinds, there is something for everyone.
Marine equipment including technical apparel from Helly Hansen and marine electronics from Raymarine and Furuno nestle in next to safety equipment, refrigeration units and engines. Many global manufacturers use boot to launch their new products and concepts.
This year Torqeedo brought impressive electric propulsion while Neander displayed their Dtorque diesel outboard with an innovative dual crankshaft. Meanwhile Beneteau did a sneak peak of their new Excess catamaran line and Gunboat (now owned by Outremer) pitched a comeback.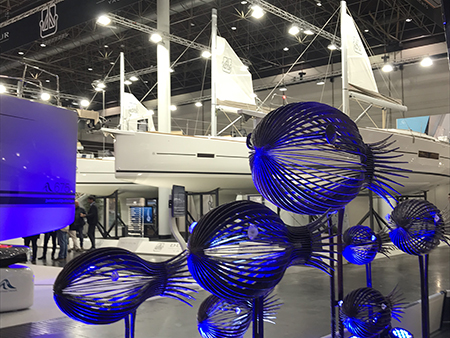 So far it may sound like any other boat show but it's the interactivity that sets boot apart. Diving is centered in Hall 3 with an actual tank where divers float and show off the latest wet suits, masks and regulators. Hall 14 allows dinghy sailors to take the helm with large fans creating "wind". Surfing demonstrations are held on "The Wave" – a five-foot high and 30-foot wide wall of water while numerous other pools offer the show goer a chance to try wakeboarding with an overhead tow cable and a shallow "pond" for kayaks and canoes. You can even take a SUP yoga class.
It takes about three days, good shoes and a boatload of perseverance to get through boot, the one-stop-shopping event for all things nautical. Once the doors close at 6:00 pm, it's time to hop on the subway that has a terminus right at the convention facility. In a few stops you can be in Dusseldorf's Altstadt (historic old town) to take a stroll along the Rhine, catch a church organ concert or enjoy a traditional German meal. Your boot ticket includes the cost of public transportation throughout the city.
The all-indoors boot is like no other boat show you'll ever witness. This year, even Albert II, Prince of Monaco visited to highlight his ocean foundation that concentrates on environmental protection. Now, where else will you see everything from powerboats to princes?
The next staging of boot will take place January 18-26, 2020.