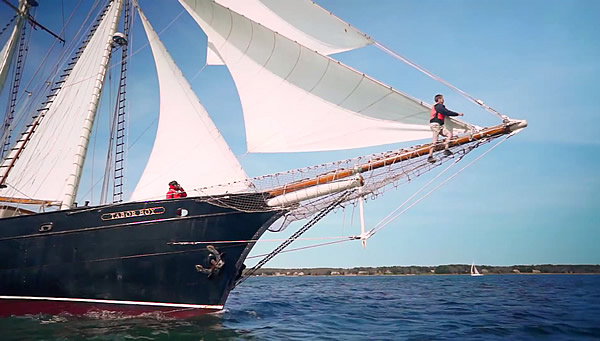 In an effort to continue to expand the race's support of youth sailing and education, the Marion Bermuda Race has arranged for two historic ships, the Spirit Of Bermuda and Tabor Boy, to berth at the State Pier New Bedford, Mass. from June 15th to 16th, 2015. Local schools, yacht club junior programs, and community boating programs are invited to take part in this exciting educational opportunity. Families and children of all ages are welcome to visit the ships when they are in port. Tours of both ships will be available to visitors from noon until 4 pm on the 16th .
The Spirit of Bermuda is a modern-built Bermuda Sloop, modeled after a British Royal Navy Sloop of war depicted in a painting by John Lynn. Owned by the Bermuda Sloop Foundation, the Spirit of Bermuda is used to provide "superior character development" programs for Bermudian youth, according to the foundation's website. The organization strives to have every Bermudian public school student, aged 13-14, participate in a program aboard Spirit. Whether it is a daysail or a long distance voyage, The Bermuda Sloop Foundation is "changing lives one voyage at a time." The Spirit of Bermuda will also be participating in the 2015 Marion to Bermuda Race, starting June 19th from Marion, Mass.
The SSV Tabor Boy is a 92-foot, gaff-rigged, two-masted Schooner owned by Tabor Academy in Marion, Mass. The ship is labeled, "part sail training vessel, part classroom, and part lab," by the school, allowing Tabor Academy students a broad variety of opportunities to experience and learn from the sea. The ship was built near Amsterdam in the 1914 and is one of only two Coast Guard-inspected vessels in her class that operates in the Northeast United States.
Those wishing to make arrangements for visits should contact Ray Cullum, Marion to Bermuda Marketing Director, at RayCullum1@gmail.com.