From landlubber to liveaboard  (published Dec/Jan 2016-17)
I had been dating my boyfriend for just a few months when, over a fancy Valentine's Day dinner, I shared my desire for adventure and change. "Well, I actually have the perfect tool for that," he said, referring to his Downeaster 32-ft. sailboat.
And just like that, we embarked on the metamorphosis that so many people with boats dream of doing: We spent a year to prepare and begin life as liveaboard cruisers.
While I had no idea what I was getting into—the near-death experiences, the challenge of divesting, the struggles of close-quarter living and the seemingly endless frustration and joy from living on a sailboat—I agreed without hesitation.
Our timeline was under constant flux. Did I think I would be living on a boat in the Bahamas a year ago? Yes, that was the general plan, but getting there, like sailing itself, was quite an adventure. I wish I could have told myself to hang on to my hat: The winds of change were afoot!
I'm in my late 30s and my boyfriend, Brad, is a few years younger; we are decades younger than most of the fellow cruisers we've met over the last year. So suffice to say we had even more to learn about ourselves and the self-sufficiency skills required when transitioning to an ever-changing life off the grid. But we were up for the challenge and hoped to have fun doing it.
On that Valentine's Day, I was working a full-time office job, freelance writing and teaching six Yoga classes a week. Brad worked as a merchant marine, and he was in port for just 24 hours when we decided to share a dream.
His 1979 Downeaster 32, named Tortuga for her ability to reach wild top speeds of 6 knots, was on the hard in a nearby boat yard. For the previous two years, he had been working to get her closer to pre-Hurricane Katrina glory. She needed major work, but I really knew nothing of it. I knew close to nothing about sailing, and I had my own stuff to deal with. I had been renting a 1,400-square-foot, fully furnished home with a shed in Florida for eight years.
Suddenly I realized I had quite a lot of stuff.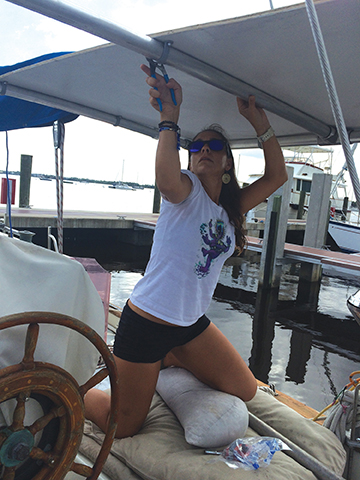 A Farewell to Things
With my family perplexed, I jumped right into the project of changing my life. To preempt hurricane season, we decided to leave Florida by the end of May. This left me three months to rid myself of all my worldly possessions. The goal was no storage unit.
First I digitized: scanning my old newspaper and magazine articles and downloading CDs from my huge music collection. I went through my drawers and cabinets, giving away things I didn't want.
What about the piles of old love letters, birthday cards, dried flowers and other personal stuff that I didn't really need to keep but felt strange just throwing in the trash? A friend had an idea. "You need to just burn it," she said. So on the next full moon, my friends met me at the beach with wood and Boy Scout skills. Burning these items felt freeing, letting go of a past that helped me get to where I was but was keeping me from moving forward.
By then, Brad returned from working offshore and set about getting the boat ready. He spent nearly every day toiling away in the boatyard. He fiberglassed, sanded and painted the bottom and deck, built a fuel filtration system and did extensive work on the engine. We bought inexpensive but hardy fabric on eBay and hired a woman to reupholster the cushions in the newly cleaned saloon. Tortuga was looking good.
Serious divestment began: I started selling and giving away everything I owned. It all had to go, and I was raising money for my new life, too. I had a garage sale and donated carloads of clothes and housewares to local non-profits. Then I sold my car.
Besides a few special pictures and books, the only thing I stored at a friend's place was my grandmother's hope chest filled with a few family heirlooms. Everything else, including a cat who had never seen water, came with me to the boat when I handed in the house keys in May.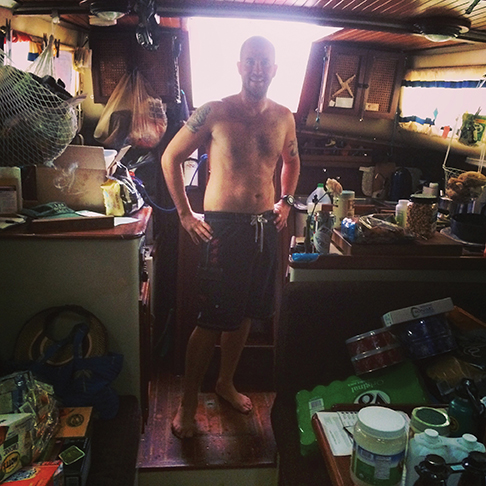 The First Fright
The day after I moved out of the house, we splashed Tortuga and sailed her south a few hours to a marina near my office. Being at the helm felt wonderful. We purchased crucial items like an EPIRB and radio, off-shore life vests, a pressure cooker and foul weather gear. It was all coming together, or so it seemed.
Assessing his finances at the last minute, Brad decided to take a temporary job. He had to live out of state for three months, but he would then have some money to travel with. I left my job in July, excited to begin cruising.
The weekend before he was set to fly out, we decided to take a shakedown cruise. Months of work on the boat and divesting had exhausted us, but the sail helped us see the big picture.
"Ah, yes, this is why we are doing this," he said, with one hand on the wheel and the other around my shoulder. We anchored in a pretty spot a few hours away and made dinner. We toasted the sunset and kissed.
I had to work the next morning, so we decided to head back. But when Brad started up the engine, it ran away and wouldn't stop! The RPMs were going faster and faster, harder and harder, 1,000, 2,000, 3,000 … the blues of his eyes pierced with fear. Just as it seemed the engine would explode, he ripped off the air intake filter, grabbed a wooden peg and jammed it in, starving it of air and shutting it down.
We ended up getting towed back to the marina, and Brad determined it was an issue with the fuel injector. I watched as first the engine part shipped out, and then my boyfriend.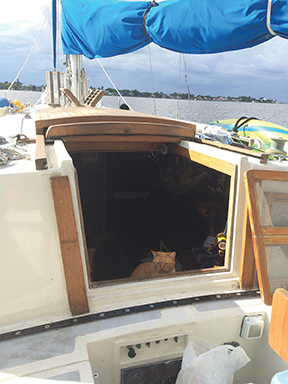 Troubles on Tortuga
Brad was gone and most of my friends thought I had left as well. But I was still living aboard at the dock, except now the dreamy sailboat was simply a tiny floating apartment. I'd see friends in town and they'd say, "How is life on the high seas?"
It was depressing, but I avoided low spirits by plunging into projects. There was still a lot of work to do on Tortuga. I completed construction of our customized hard-top bimini. I created a spreadsheet for months of provisions and items we still needed to purchase. And most importantly, I had to learn to sail! I had almost no experience on boats when I agreed to cruise with Brad, but I was excited to learn. I sailed with friends and read the ASA manuals. I mastered the bowline and a clove hitch. I cracked Richard Hubbard's Boater's Bowditch.
All that focus was disrupted just a few weeks after Brad left. I was cleaning the A/C strainer, when I smelled smoke. Then I saw smoke coming out from behind the instrument panel. The inverter somehow spontaneously engulfed in flames! I switched off the power and grabbed the fire extinguisher and let loose, but it did no good. Frantic, I grabbed a pitcher of water and emptied it on the inverter. Then again: This time, the fire fizzled.
The cat hid in a corner. I had major cleaning up to do. And so I did.
But a few weeks later, the composting head reached a scary state. Flies had completely overwhelmed it, caking the inside with an inch of maggot eggs. Feeling sorry for myself, I spent hours in bleach and boiling water to clean it.
Then two weeks later, a hurricane pointed straight at the marina in Florida where I was staying. I quickly learned the literal meaning of "batten down the hatches." I learned how to unrig the vessel and hoist the dinghy on the bow. Everything was ratcheted down and ready, just as the storm's path veered away.
Captain, My Captain
Brad, meanwhile, was having a great time, working daily shifts on a scientific vessel that visited cool spots like Brooklyn and Cape Cod. He was earning money for our trip, but he was also spending it on beers at bars and nights out with new friends.
By October, when his job ended, he returned to a new girlfriend. Instead of being carefree and confident, I was overwhelmed by taking care of the boat by myself, jealous of his adventure and unsure of my future. Sailing around the world started to seem like a foolish idea. I considered moving off the boat, but to where?
The reality of living together on a 32-foot sailboat meant there was no hiding from the problems. Communication had to be clear and honest. We were forced to confront the "issues" left over from other relationships and our childhoods head on. We had to be a team.
We both still wanted to make our dream work. Brad called every diesel mechanic we could find to help him get the engine started again. We bought a thousand dollars worth of food and drinks. We checked off endless to-do lists for final departure preparations. And by the end of the month, we thought were finally ready. Little did we know, Tortuga wasn't.
Murphy's Law, Continued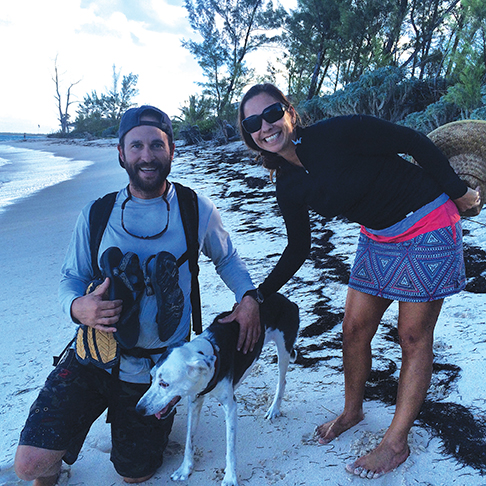 On November 1, we left on our second shakedown cruise of the year. We sailed a couple hours, and the engine ran great. The next morning, we returned to the marina for a final fueling.
As we were motoring off the fuel dock, something seemed strange. We weren't really moving. Was the prop fouled? No, even worse, Brad realized when he dove down to check, it fell off! Brad donned SCUBA gear and searched the mucky-brown waters of the river near the fuel dock for the propeller. By some luck, he actually found it.
Its a good thing we hadn't left. Turns out, the engine was flooding because the siphon break sat too low. The raw water pump failed, too. It was one thing after another, but Brad rolled up his sleeves and got to work.
We felt frustrated by yet another delay, in our heads we were on some non-existent timetable, but we refused to give up.
A week before Thanksgiving, we kissed the town goodbye and sailed all day. We made it to a calm, deserted anchorage and relaxed for a few days. We thought we could sail to Miami and cross over to the Bahamas.
But as we were motor-sailing south down the ICW, the motor shut off without warning. Confused, we dropped anchor in the middle of the channel. Now what? Seems the transmission fluid leaked out, causing the transmission to seize completely and break, and even messing up a few injectors, too. We couldn't believe it.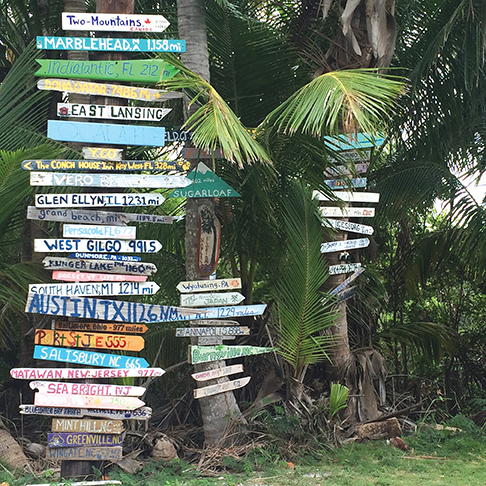 Finally Sailing On
With our heads hanging low, Tortuga was towed south to an anchorage where a diesel mechanic friend was staying on his boat. While Brad ripped out the transmission and injectors, our friend mentioned a captain in the Abacos looking for help with a charter company. I started making new contacts for freelance writing, and we were running out of funds. But the stars were aligning.
By the middle of December we were ready to go. This time, we actually went. Running the engine hard, Tortuga made it out the Palm Beach Inlet and we sailed in bluewater together for the first time. On my first watch, I saw a marlin jump clear out of the ocean. A week later, I shared the tale with new cruising friends over Christmas dinner in a picturesque park in Biscayne Bay.
New Year's Eve, we finally crossed the Gulf Stream. On watch, I enjoyed first the moonrise and then the sunrise as we sailed into the Sea of Abacos. We made it, despite all the trials.
In the Bahamas, only the water is a clearer blue than the sky. Life is becoming sweet. Thanks to the adventures of the last year, I'm now a more confident co-captain and Brad and I are a stronger team. We're able to balance working with fun, including lots of sailing.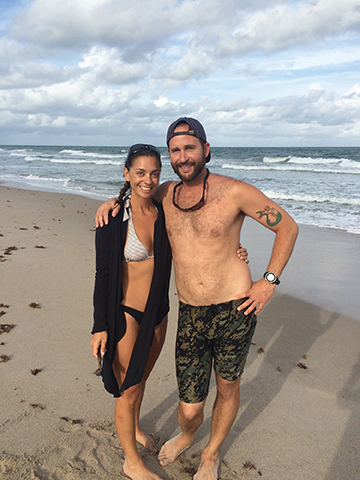 The Bahamas were just the first stop for us, but it was where we celebrated our next Valentine's Day. Where will we be for the next one? Only the winds know.
A writer and yoga teacher, Suzanne Wentley lives with her boyfriend and cat aboard S/V Tortuga, a 32-ft. Downeaster. They enjoy the freedom to learn, laugh, sail and smile in different countries throughout the Bahamas and Caribbean.