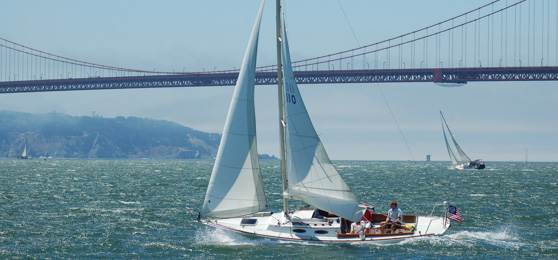 Every April sailors from around the West Coast of North America gather in historic Jack London Square in Oakland, California for the Strictly Sail Pacific Sailboat Show. Starting today and running through Sunday April, 12, this internationally acclaimed sailboat show is the largest and oldest in-water sailboat show on the West Coast and has everything from free cruising seminars and new gear to hands-on boating clinics and new boat premiers.
Whether you are a newbie or a seasoned sailor, this four day sailing spectacular is the place to immerse yourself in the world of sailing! Enjoy the great outdoors while discovering all the new boats that the world's leading manufacturers have to offer. See various types and styles all in one place. Also on display will be a full range of marine electronics, products and accessories.
Show highlights include:
New Boat Premiers – Beneteau, C&C, Dehler, Hanse, J/Boats, Jeanneau, Lagoon, RS and more
Latest in Gear and Accessories
Cruiser's Seminars – Over 90 Free seminars
Advanced Hands-on Seminars and Workshops – Five great events to help build your knowledge beyond the beginner!
Discover Sailing – Hands-on sailing clinics for all ability levels
Author's Corner – Check out the latest books from top sailing authors