Published as BWS's annual guide to great monohulls for coastal cruising, weekending and daysailing in June/July 2016.
BWS has always been published for sailors who sail over the ocean's horizon as they head to new landfalls whether that is down the coast or to some foreign land. But, BWS is also for sailors who may have already been there and done that or who are still ramping up their skills and their cruising kitties and are coastal cruising in the meantime.
So, with our fondness for good quality and innovative small cruisers in mind, we offer our annual guide to boats under 35 feet in three separate categories.
COASTAL CRUISERS


BAVARIA
The smallest sailboat in the ever-growing Cruiser and Vision lines for German builder Bavaria, the Cruiser 33 design is several years old now but still represents a very capable small cruising boat at a very fair value.  Designed by Farr in Annapolis, the 33 has a voluminous hull that provides a lot of interior volume that will easily accommodate a family with young children or a couple who like to occasionally have grown children and friends join them. This is a 33-footer you could live on and is built to the high quality you would expect from German craftsmen. www.bavariayachts.com
BENETEAU
Group Beneteau, based in France, but with boat building facilities in the U.S., Brazil and southern Europe is the world's largest producer of recreational boats. The Beneteau brand grew out of the sailboat market and that market is still vital to the company's profile and image. They have always built entry level cruisers, racers and daysailers. Today, the Beneteau Oceanis 31 and 35 (new last year), are offshore capable cruisers that can be easily managed by a couple or cruised by a family. The 35, like the 38 that was launched a couple of years ago, is a modular boat with a variety of interior plans from daysailer to full on liveaboard cruiser. Both boats evoke the Euro-modern styling that Beneteau has adopted in its latest range of Oceanis cruisers. The First 30 is a racer cruiser with the emphasis on racing. While it will make a fine weekender it is really best suited to longer point to point races of several days or more. A truly fun boat to sail, the First 30 is a Porsche among the fleet of family cars. www.beneteauamerica.com
CATALINA
Once America's largest sailboat builder, Catalina has retrenched after the recession and is back building wholesome, good quality cruisers for families and couples. The little 315 is not so little when you climb aboard and has a sensibly proportioned cockpit that will seat six and an interior that a family of four will enjoy for summer cruises. The boat sails as well as any in this size range and is simple and easy to handle. The 355 is a significantly larger boat than the 315 and feels like a 40 footer of old. The fit and finish in the new Catalinas is among the very best in the production boat market, with solid wood doors and cabinet front, many useful drawers and the best stainless steel fittings. www.catalinayachts.com
COM-PAC
This family owned company in Florida has been quietly and steadily building small, high quality cruising boats and daysailers for two generations. The Com-Pac 27 is their coastal cruiser and has all of the accommodation and sailing qualities you need to truly explore the coast far and wide. Built to a high standard and fitted out with top of the line hardware and equipment, the 27 is a little yacht. For a couple or a young family, the 27 will be either a great last cruiser or a perfect entry level boat at the start of a sailing career. The boat looks traditional and definitely evokes the best in American yacht style over the decades. www.com-pacyachts.com
DEHLER
Although not yet a well known brand in the US, Dehler yachts are very popular in Europe and the Dehler 29 is a highly respected racer cruiser with large one-design fleets. A true dual purpose boat, the 29 not only is a lot of fun to sail it is also a fast family cruiser with two private cabins, a roomy saloon, a full head and a useful galley. Between regattas, the 29 is a fine little cruiser. Dehler builds modern boats that uphold the older European traditions of fine woodwork, varnished interiors and well thought-out storage lockers. www.dehler.com
HANSE
The German invasion of North America—Bavaria, Dehler and Hanse—now accounts for a healthy percentage of new sailboat sales.  Hanse has seen steady growth in America in no small part because it builds and delivers roomy, modern cruisers at a very fair price. In the under 35 foot category of smaller cruisers, Hanse offers the roomy 345 and the brand new 315. The 345 is a well-appointed and designed family cruiser with a simple rig—self tacking jib—a large cockpit and room below  for two couples or a family of four.  The new 315 is just as well appointed and fitted out and delivers a huge amount of cruising comfort in a small and affordable package. The 315 was named European Sailboat of the Year last winter by a panel of expert sailing journalists.  www.hanseyachts.com
J/BOATS
Last year, the letter E started appearing at the end of the usual numerical designations that J/Boats gives some of it boats.  The E stands for Elegance and Evolution in performance cruising design. The 97E is a good example of where the E is taking the company. The new 31-footer has all of the sailing qualities you expect from J Boats and has won its class in major regattas in the US and Europe.  So it is no couch potato. But it does have couches as well as standing headroom, two full cabins, an enclosed head, a seagoing galley and a large table with folding leaves. The interior is bright and open to the point that you feel like you are in a much larger boat. J Boats has been catering to dyed in the wool racers for years—900 J/70s have been delivered!—but with the E series they are offering up a line of boats that will appeal to dyed in the wool cruisers, too. Can you image teak decks on a J Boat under 50 feet? Well, now you can have them. www.jboats.com
JEANNEAU
Jeanneau—a part of the Beneteau Group—is now one of the largest sailboat builders delivering boats in North America and giving their sister company, Beneteau, a run for the money. They have the big boat part of the market well covered but they are not neglecting the entry level, either. The 349 that was introduced two years ago is a cracking little cruiser that sails circles around some larger boats and has the living and cruising accommodations of a 38 footer. The 33i is a smaller version but offers a lot of cruising capability in a very attractive and affordable package. These two Jeanneaus make great all around entry level boats. And they are built to a very high standard of quality. www.jeanneau.com
MARLOW HUNTER
After failing during the recession and being acquired by David Marlow who builds luxury motor yachts, Hunter Yachts—now known as Marlow Hunter—has been steadily reinventing itself and its line of cruising boats. The all new MH 31 is a fully fitted out coastal cruiser that has a unique hull design—similar to the 37 and 40—and a simple rig that is easy for a lone sailor or couple to handle. With a lot of beam aft, the 31 has a good-sized cockpit with a stainless steel arch over it to carry the mainsheet. Down below there is a large cabin aft, a guest cabin forward and an enclosed head aft.  The team at MH have steadily upgraded the finish work on the boats so the new 31 has a more yacht-like feel than Hunters of old. www.marlow-hunter.com
SCHOCK
Two years ago Matt Rutherford sailed a Schock Harbor 29 from California to Japan as he documented the pollution collecting in what is known as the North Pacific gyre. So, he proved along the way that the new 29 is an ocean-quality mini-cruiser. The boat has everything you need to move aboard and sail away. As part of the Harbor series, Shcock also builds the Harbor 25 which is a solid little pocket rocket for weekending and summer cruises.  The boats are built in California and have developed wide followings around the country.  All of the boats are built with Hoyt Jib-booms that make the headsails self tacking. www.wdschock.com
SEAWARD
The Seaward brand, built by Hake Yachts, is owned and managed by Ted Gelov who is a successful businessman from the Midwest.  His company recently completed taking over Island Packet Yachts and Blue Jacket Yachts in Florida where the Seaward line is being built. The Seaward 26R and 32 R are lifting keel designs that have proven very popular among those who sail the shallow waters of the Bahamas, Florida, the Chesapeake and elsewhere. The 26 has a roomy cockpit for four adults and can accommodate four people in the V-berth and settees below. The 26 is really a great couple's boat. The 32 is more of a long range cruiser and can easily take you across the Gulf Stream to the Bahamas and be your floating home for a winter of island cruising.  The craftsmen at Island Packet are doing a fine job building high quality Seawards that compare in quality to any boat in the under 35-foot range. www.seawardyachts.com
TARTAN
Long one of America's premier boat builders, Tartan was hit hard by the recession and has downsized and regouped under new ownership.  Today Tartan is the only production builder in the country to build all epoxy yachts with all carbon fiber spars.  The boats are very high quality—heirloom quality—and thus cost a bit more than competition coming from Europe or elsewhere.  In the under 35 foot range, Tartan offers the 101, 115 and 3400. The 101 and 115 are pure racer cruisers that have proven to be successful around the race course and capable coastal cruisers. The 3400 is a fine example of Tartan's best work reduced to 34 feet. The boat sails sweetly, it has a large cockpit and the interior has the warm comfort you expect from a Tartan yacht.  www.tartanyachts.com
WEEKENDERS
BENETEAU
The Beneteau First 25 is a sweet sailing weekender that will be a lot of fun to race in PHRF events or club regattas. With a tall rig and plenty of sail area, the little speedster will scoot when the breeze is fresh.  The boat can be rigged with a Code Zero and an asymmetrical spinnaker. The cockpit is set up for competitive sailing and a crew of up to four. Powered by an outboard, the motor hangs on a stern bracket where it can be tilted up and out of the water. Down below there is a small galley with a portable burner and a sink. The two bench settees can double as single berths and there is a V-berth forward of the enclosed head. A young couple or a group of friends could have a whale of a time sailing, cruising and racing the First 25. www.beneteauamerica.com
CATALINA
The relatively new Catalina 275 is a real design departure for head designer Gerry Douglas. The 275 is a sport boat that doubles as a fun family weekender. It has a large sailing rig with a self-tacking jib and a bow sprit can be added to make flying the downwind sails more fun. It has an almost plumb bow and a wide open transom. The beam has been kept within the limits of trailering the boat behind a family car. The accommodation layout is basic but comfortable and four adults can sit in the saloon and enjoy a meal after a day of sailing. The enclosed head will be appreciated by all. The new look of the 275 is going to spark new larger sport cruiser boats from Catalina but this handy 27-footer may be all the boat you need. www.catalinayachts.com
COM-PAC
The Com-Pac 23 has been around for a while and should be included in any list of enduring small cruiser designs. Hundreds have been bought and sailed all over America. Trailerable, seaworthy and attractive, the 23 is a true little yacht. When Com-Pac came out with the 23 Pilothouse, they offered some of their older patrons a design that would allow them to sail under cover and enjoy a great waterfront view whether under sail or swinging at anchor.  The cockpit is still big enough for sitting out in the sun. But when the rain comes, you can slip into the pilothouse and continue on your way. These are great little boats. www.com-pacyachts.com
J/BOATS
The J/88 and 95 are two special little cruisers that are designed to sail fast and win around the buoys while also offering their owners something more, enough space below to stay aboard for the weekend. The 88 is really a daysailer and regatta racer that at 29 feet will provide a lot of fun and silver. If you are inclined to stay aboard, of course you can but you will be camping.  The 95 is a step up in accommodations and offer the unique quality of being a shoal draft cruiser. The boat is fitted with a shoal draft fin keel with a bulb that has a deep centerboard inside it. When sailing hard, you have all the performance of a deep keel, yet when slipping into a shallow anchorage, you can go where few other boats of this size could go. The twin rudders offer great steering and add to the shoal draft performance. Both the 88 and the 95 are sweet boats that sail particularly well. www.jboats.com
PRECISION
For the last 38 years, Precision Yachts has been quietly building great little daysailers and pocket cruisers in Florida. The Precision 23 is a trailerable family cruiser that harkens back to the days when you didn't have to spend a fortune to have a perfectly good cruising trailer-sailer.  The cockpit will be comfortable for four adults and the accommodations are designed to have two sleeping forward in the V berth and two on the bench settees in the main cabin.  Since it only displaces 2,500 pounds and a trailer will weigh around 1,000 pounds you will be able to haul your little cruiser to the best sailing grounds in America. The basic boat is under $40,000. With a trailer, outboard and upgraded sails, you will still be under $50,000.  www.precisionboatworks.com
SEASCAPE
Conceived by Slovenian mini-transat sailors and designed and built in Slovenia, the Seascape 27 brings all of the exciting performance of the Open class boats –Mini 6.5s, Class 40s and IMOCA 60s—to the recreational sailing public. The 27 is a boat that can break away and start planing in a good breeze and will regularly sail at double digit speeds off the wind. It has a folding keel, a tall fractional rig, a bowsprit and twin high performance rudders. The boat can be singlehanded or you can really make her fly with a crew of three. Oh, and there are pretty nice accommodations below for taking your partner and mates on a fun cruising weekend. Speed leads and the Seascape is definitely a leader.  www.thinkseascape.com
SPARKMAN & STEPHENS
The Sparkman & Stevens 30, conceived by Bluenose Yacht's principal Glenn Walters, is a classic looking weekender or daysailer. The design is based upon a 30-foot yacht named Babe that was designed by the legendary Olin Stephens in 1935 and used as a coastal racer and weekend cruiser. In those days, coastal racing included events like the 150-mile Florida to Nassau Race. The new 30 has a powerful rig and a thoroughly modern underbody; it sails amazingly well. The accommodations are sufficient for a couple weekending or perhaps a family with young children for a few days. This year, Walters has launched the all new S&S Open 30 which has a much bigger cockpit and a small cuddy cabin. The Open 30 is a daysailer that does everything well. The boats are very pretty and evoke the whole history of yachting in the American style. www.bluenoseyachts.com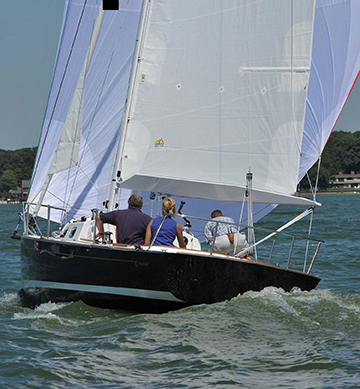 TARTAN
Three years ago, Tartan Yachts introduced their little 24-foot Fantail. It was designed by Tim Jackett and came in three versions, club racer, family daysailer or weekend cruiser.  The hull has a lovely traditional look that lets you know that this is a Tartan and that it is an instant classic. The little Fantail sails very nicely and really gets going under a spinnaker off the wind. The club racer and daysailer models are just as their names imply, designed to race with a crew of four or to putz around the bay with your friends. The cruiser has a little cuddy cabin with two berths, a place for a portable head and a rudimentary galley. www.tartanyachts.com
DAYSAILERS
BENETEAU
The First 22 came on the scene three years ago in a big announcement between Beneteau America and the American Sailing Association (ASA). The two companies were partnering in the design and marketing of a one-design that would become the new training boat for ASA sailing schools. The 22 was based on the First 20 and the original designers, Finot-Conq, stretched the hull and created a new simpler rig that would be good for beginners and more experienced sailors alike. The First 22 is gaining in popularity and the boat offers a great value for those looking for a well built, safe daysailer. www.beneteauamerica.com
MARLOW HUNTER
The Marlow Hunter 22 has been around for years but remains one of those basic daysailers that is hard to beat for functionality, sailing qualities and price. The boat is rated for five adults so you can take the whole family out for an afternoon. It is set up like a simple dinghy and is easy to handle. With a mini outboard on the stern you will always be able to get home when the wind dies. And with a little cuddy cabin, you have a place that offers a little privacy and a V-berth for naps. www.marlow-hunter.com
SCHOCK
The Harbor 20 is one of those boats that has been building a cult following for years. Without a lot of fanfare and promotion, the little 20 footer, with its ample rig and self-tacking Hoyt jib boom, has seen one design fleets sprouting up all over the place. Why? Because the boat is good for older sailors who want to sit in a deeper cockpit, want to be able to race as a couple or two buddies, and want the performance of a sweet modern hull and a fin keel. It's hard to find the best of both worlds—but Schock has achieved this in the Harbor 20. www.wdschock.com